Who we are: a team of 80+ nice people // plus 30+ designers & calligraphers // dozens of cast iron presses // ink-in-the-blood printers // a letterpress shop that does stuff to help the planet // housed in a hundred-year-old warehouse on the outskirts of downtown Syracuse // we create heirlooms // this is our passion and our life and our love
Why live here in Syracuse NY: the maples turning into fabulous reds // snow drifts and snowmen and moon-lit snow // feasts of grapes, plums, peaches, nectarines // a grand vibrant farmers' market // the Finger Lakes wineries // no rush hour // blueberry season // Cortland apples // our gritty beautiful artist warehouse with crooked floors and much character
What we dream about: heavy antique presses // strong inks // large bodies of calm water // a guy named Gutenberg // a tea house in the Rockies // world peace // 27 hour days // spring // a rich deep impression of type
We will never grow sick of: watching lake effect snow fall // picnic lunches in mountain passes // good typography // rereading Bleak House // calligraphy // watching our presses do their stuff
What do we love: upstate New York // letterpress // the planet // cast iron // 1950's well-crafted machinery // a secret waterfall 30 minutes southeast of here // perfection // poetry // nightstands crammed with books // family // businesses that do good // craft traditions // rich inks
What we see outside our shop: overwhelming sunsets // train tracks // a parking lot // the tops of trees // painted brick warehouses // the spires of far away churches // yellow fire hydrants // downtown // crows moving on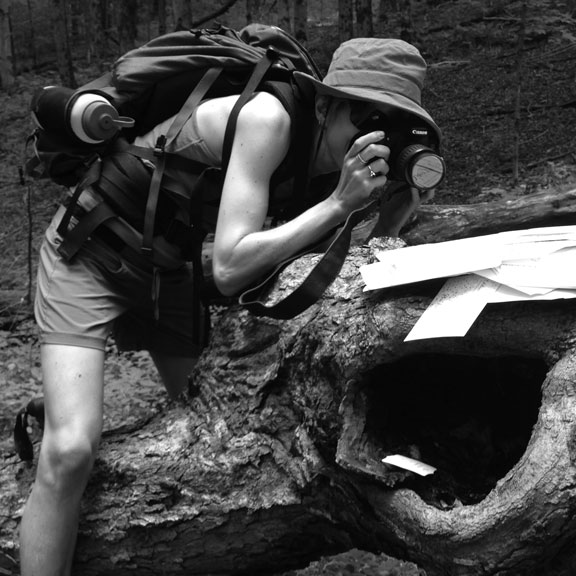 Debbie Urbanski
Founder and Co-owner
Debbie made Bella Figura. Yes. She is from Chicago and came to Syracuse for an MFA in Creative Writing from Syracuse University. When she is not stopping to photograph beautiful invitations in the forests of Central New York, she is writing fiction that explores aliens, marriage, cults, and family, or some combination of those themes. Debbie is also able to eat sauerkraut in any meal.
Harold Kyle
Co-owner
Harold made the company that made Bella Figura. His dreams are filled with cast iron and cotton. A native of Maryland, he made his way to Syracuse via Minneapolis. In addition to antique presses, Harold loves the deep woods and the command line.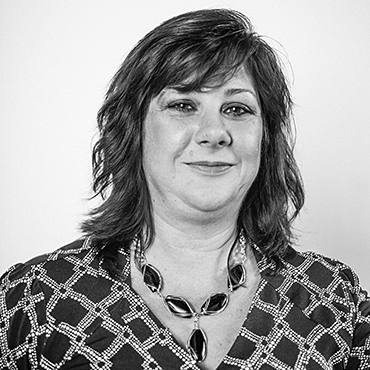 Adriana Sosnowski
Operations Manager
Adriana was born in Wurzburg, Germany and is fortunate to have had the opportunity to learn and live in both the American and German cultures. Her family and pets are always her priority, and she believes in working hard while finding joy and laughter each day.  She loves to travel, bake and cook and tries to fit them all in to a busy life. She enjoys what we do at Bella Figura to be a small part of a couple's dream.
Tiffany Button
Custom Product Manager
Tiffany can't get enough of gold foil edging, charcoal ink on ivory paper and wild, untamed hand lettering. She believes the best parties should never be without impeccable stationery, interesting people and an abundance of locally grown flowers. She is happiest when re-reading the Brontës, sipping Earl Grey tea, dreaming of grazing sheep and arranging peonies. She can't imagine a world without grey days, conservationists, a pug named Stella and the sea.
Jessica Tierney
Creative Lead
Not long after graduating from Rochester Institute of Technology with a degree in Graphic Design, Jessica landed her dream job of designing wedding stationery at Bella Figura. She spends her days here wrapped up in patterns, pantones and pretty paper while developing our brand and dreaming up new and creative designs. The things that make her heart happiest are hand lettering, calligraphy, sketching, neutrals, shiny foil stamping, stripes, plaid, simple design, vegan cupcakes, chai tea lattes, peppermint + pumpkin flavored anything.
Sarah Sadler
Client Coordinator
As a lover of the written word and stories pressed into paper, Sarah has always been devoted to the idea of capturing moments. With wedding photography as her other passion, she couldn't imagine a better fit than Bella Figura. She is honored to play a small part in helping the pages of your story unfold.
Sean Mahady
Client Coordinator
With many years of experience in customer service, Sean was thrilled when the opportunity to work with the wonderful people at Bella Figura arose.  He looks forward to each day and the new challenges that they present.
Tina Pescaro
Client Coordinator
Before coming to Boxcar Press Tina worked at IDG in Boston for over 15 years as a Customer Service Supervisor. Her love of working with the public and assisting them makes this the perfect fit for her. She enjoys every aspect of her job and is proud to work for Bella Figura. When she is not at work she is either spending time with her three dogs or volunteering at the Humane Association.
Lindsy Talarico
Graphic Designer
Being a creative soul at heart, Lindsy pursued an education in Graphic Design at SUNY Oswego and received a Bachelor of Fine Arts degree in 2004. Currently an in-house designer for Bella Figura, she continues to do what she has always loved most – designing beautiful things and working with amazing people.
Rachael Bumbolo
Graphic Designer
Racheal is a wife, a mother, a designer and perfectionist, and self-proclaimed diy-er. She grew up here in Central New York and has no plans of leaving this beautiful area surrounded by family, small towns, beautiful countrysides & the glorious Adirondacks. She always wanted to design for print, and the day she came into wedding stationery she knew right away that she wanted to spend everyday creating just one small piece to add to a beautiful day for brides, grooms and their families.
Andrea Streeter
Graphic Designer
Andrea is a graphic designer proudly born and raised in central New York. She graduated from Syracuse University's Newhouse School in 2011. Since then, she has fallen in love with designing letterpress invitations and adding a bit of Bella Figura beauty to special occasions around the world. In her spare time, she practices hand-lettered typography and goes on Twitter too much.
Leslie Johnston
Graphic Designer
Leslie Johnston was born and raised in rural central New York and now calls the city of Syracuse home, along with her husband Jeremy and their big-boned ginger cat. Leslie joined the Bella Figura family in early 2016 after 4 years as a Visual and Product Designer with Mackenzie Childs in Aurora, NY. She is excited to bring an air of the whimsical and colorful to her work with Bella Figura, and she is thrilled to be surrounded by beautiful design, quality workmanship, and some amazingly talented people.
Sierra Detrick
Graphic Designer
Sierra Detrick was raised on the beautiful bays of Lake George. She graduated from Cazenovia College in 2016 in the top 10% of her class. Spending most of her college life in Syracuse, Sierra now considers central New York her second home. She believes in the power of socially responsible design and was drawn to Bella Figura for their sustainable practices, preservation of the art of print and letterpress and hand-lettered typography. Sierra is happiest when she is with her family, doing any kind of DIY-project or simply being outdoors.
Madison Palmer
Graphic Designer
Madison was born and raised in Central New York and has been an artist since childhood. She received her Bachelors of Arts in Graphic Design and Printmaking from The College of Saint Rose in Albany, New York. She believes in sustainable printmaking practices and beautiful, simple, classic designs with out of this world typography. Outside of designing she can be found with her family, close friends, her two rabbits, and her dog. She enjoys sailing Lake Ontario in the summer months and snowboarding in the winter.
Meaghan Arbital
Graphic Designer
Syracuse native Meaghan Arbital is a designer and illustrator who loves drawing in her spare time (especially animals). She graduated with honors from Syracuse University in 2004 and has a passion for design, marketing, illustration and animation. She lives in Liverpool with her fiancé and a mess of wild rabbits who like to eat the garden despite a two-and-a-half foot fence. Soon to be a bride herself, she is looking forward to tying the knot in October of 2018.