Save the Dates
Save the date cards give guests advanced notice of your wedding, but they also set the tone for the whole event. They are your first impression.
View more on our blog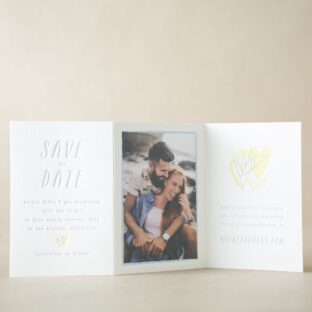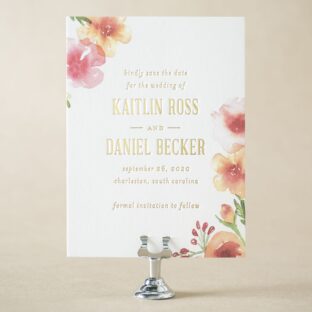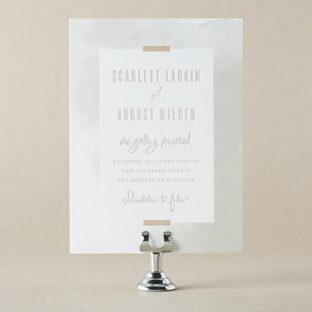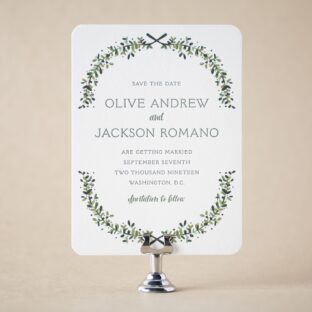 Why send Save the Date cards?
The save the date card will often set the tone for everything to follow, including the invitations but also the wedding ceremony itself. They're especially useful if you're planning a destination wedding; if you're inviting many out of town guests who will need to travel; or if your guests are simply very busy people whose weekends get booked up months in advance.
Save the dates can look just like your wedding invitation; they can hint at the wedding invitation style to come; or you can choose a totally different design. They are often less formal too, meaning you can be as adventurous and playful as you want on the color and design—whatever reflects you and your excitement for your wedding. We've designed save the dates as postcards; as panel invitations; or as more elaborate sets with pocketfolds and additional pieces, such as a welcome letter from the bride and groom, a schedule of events, and hotel/travel information.
Be inspired by our 300+ letterpress and foil-stamped wedding invitation designs. Designs for save the date cards are visible when you click "View Additional Suite Pieces" on any design's page. Bear in mind we can also customize pretty much anything about a design, as you can see from the save the date cards on our blog.
Save the Date etiquette
Save the dates are sent out 6-12 months before the wedding. You might want to look at our Wedding Stationery Timeline to help plan.
Even formal save the dates are generally worded less formally than the invitation. Writing the date as 06.05.20 or June 5, 2020 is perfectly okay and even more common than "Saturday, the fifth of June, two thousand twenty." Including your wedding website on your save the date is a great way to share additional information with your guests. It's traditional to put "invitation to follow" or "formal invitation to follow" on the save the date, but even this is not necessary. You may want to choose a more spare, streamlined design and wording.
Save the date wording examples & etiquette
Save the date
06.05.15
Amelia Manning
+
Liam Cullen
New York City
www.mialovesliam.com
OR
Amelia Manning & Liam Cullen
are getting married on
Saturday, June 5, 2015
New York City
Please save the date
OR
Please save the date of
June fifth, two thousand and fifteen
for the wedding of
Amelia Manning
and
Liam Cullen
in New York City
Formal invitation to follow
OR
Save the date
Amelia Manning
and
Liam Cullen
June 5, 2015
Invitation to follow
www.mialovesliam.com
OR
Save the date of
June 5, 2015
to celebrate the wedding of
Amelia Manning and Liam Cullen
New York City
Details to follow
OR
Save the date
for the wedding of
Amelia + Liam
06.05.15
New York City
OR
Save the date!
Amelia Manning & Liam Cullen
are getting married on
June 5, 2015
New York City
Invitation to follow
We're getting hitched!
Amelia Manning & Liam Cullen
June 5, 2015
New York City
OR
Liam proposed… Mia said "Yes!"
Join us on June 5, 2015
as we say "I do"
in New York City
Formal invite to follow