These are our letterpress designers.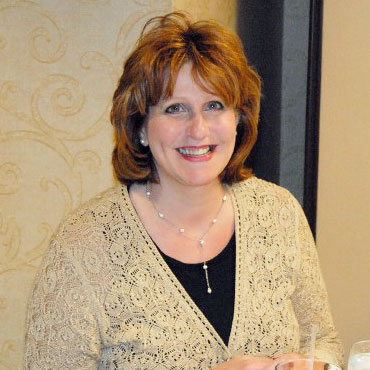 Debi Zeinert
Debi Zeinert has been a wedding calligrapher for the past 30 years. She specializes in Copperplate and other pointed pen styles that pair beautifully with letterpress printing. "I've loved letters forever," Debi says. "When I was a little girl I used to trace the M's on cards from my grandma over and over again because I thought they were so pretty." Debi is also the mother of Heather and Heidi, the grandmother of Natalia, the wife of Bob, the best friend of Ellie and Libby, the Shelties, and the founder of the ever-popular
Blooming Quill Calligraphy
. She is currently the President of IAMPETH (International Association of Master Penmen, Engrossers and Teachers of Handwriting).
What's the most exciting thing you've done? There have been so many lately! I love 'performing' my work in public at wedding shows—and in the past few months I've been able to do so in Milwaukee, New York City and Chicago. Nothing is more satisfying to me than to see the look of awe in a bride-to-be's eyes when they watch me pen their name!
What are your favorite colors of the moment? blues, browns and pinks
What inspires your designs? I've always been inspired by the Master Penman of years gone by. The precision in their work is amazing. And I love the Victorian era. I want a house with heavy drapes, tapestry covered furniture and brocade wallpaper!
Tell us about your wedding. It was all about the kids. It was a second wedding for me and we put the details into making sure my teenage daughters and my young nieces and nephews had the best time. The ceremony was simple and elegant and the party was at the zoo!
What city do you call home? Port Washington, Wisconsin, a small town on Lake Michigan.
Describe the place where you design. I have the most fabulous studio—tile floor, vaulted ceiling, walls finished with a leather look and windows or doors on all sides. I work on a big dining room sized table that is always full of jobs to be done. It's my little slice of heaven on earth.
What were the colors of your childhood? purple and pink
What's on or in your nightstand? The teddy bear my grandma gave me on the day I was born, a clock and a telephone
What is your most prized possession? My granddaughter—she makes my heart swell.