These are our letterpress designers.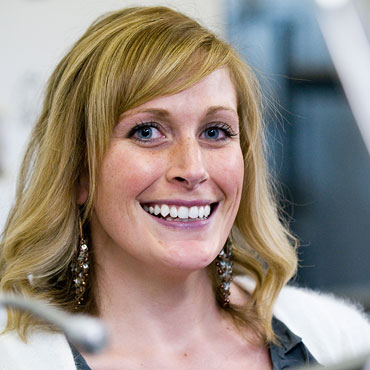 Jessica Tierney
As a little kid, Jessica Tierney was always doodling and playing in her mother's craft supplies and knew, from an early age, that art would play a role in her life. She received an Associates Degree in Graphic Design from Mohawk Valley Community College and a BFA in Graphic Design from Rochester Institute of Technology. Once out of school she tried her hand as an interior designer at a high end furniture store and as an in-house graphic designer for a library supplies company. She is now an in-house graphic designer with Bella Figura, where she is living the dream life designing beautiful letterpress invitations for couples worldwide.
What inspires your designs? Architecture, nature's color palette, vintage packaging, interior design, handmade crafts, drives through the country, black and white photography, vintage jewelry.
Describe your style. My living style is all about clean, modern comfort and keeping things clutter free. I love the combination of sleek and modern with rustic natural touches. Think Swiss design meets old country farm house. No knick knacks or frills, just simple well-designed necessities that make life good.
What's the most exciting thing you've done? The most exciting thing I've done so far is traveling to Europe through the design program at Mohawk Valley Community College. As wide-eyed designers we got a guided tour through the city of Basel, Switzerland with famed graphic designer Wolfgang Weingart and learned about life and design from him at the Basel School of Design. Then traveling to Lucerne, we got to lunch with Armin Hofmann who was instrumental in developing the Swiss design style. It was such an amazing opportunity to learn from such influential people who were not only brilliant designers but down to earth mentors—a priceless experience!
What was the best vacation you've taken and why? My favorite vacation place would have to be Florence, Italy, but really anywhere in Europe is truly amazing. Florence is just filled with so much culture and history; nothing here in the states can compare. Some of my favorite sights: looking out over all of Florence from the top of the Il Duomo, well worth the long hike up a winding narrow staircase to the top; the amazing square Piazza della Signoria surrounded by beautiful statues (including a copy of Michelangelo's David), a great place for people watching; Galleria degli Uffizi, full of amazing Renaissance art; all the shopping and markets; and of course eating delicious gelato along the Arno river!
Describe the place where you design. Here at Bella Figura my design space is in our open area office I've tried to make feel cozy, comprised of letter pressed invitations I've designed, soft lighting, a mason jar tied with ribbon filled with pens and pencils, a photo of my pretty little dog Torri (a spunky combo of an Akita and Corgi, who I can look at and smile whenever I need to), vintage tins for inspiration and a cup or two of coffee.
What's on or in your nightstand? My ipod dock/alarm clock, Macintosh apple scented Yankee Candle reed sticks, and a sleek stainless steel and white lamp.
What city do you call home? I call the small town of Chittenango my home. About 20 minutes away is Syracuse, which is full of exciting things to do and see, such as a visit to Downtown Armory Square— lots of cute stores, coffee shops and great restaurants like Empire Brewing Co. Amazing food and they make their own beer. I highly recommend the Blueberry Wheat, yum!
What is your most prized possession? A photo from when I was a baby with my dad.
What were the colors of your childhood? I grew up in the 80's so the colors were pretty crazy. Umber: the color of all our kitchen appliances, wallpaper and laminate floor…what were my parents thinking?! Dusty pink and baby blue: everything in my bedroom. And fuchsia with lime green: my LA Gear sneakers and matching scrunchies, socks, leggings and t-shirts. I was all about color coordination from an early age!
What are your favorite colors of the moment? Pumpkin, pewter and dusty pink