These are our letterpress designers.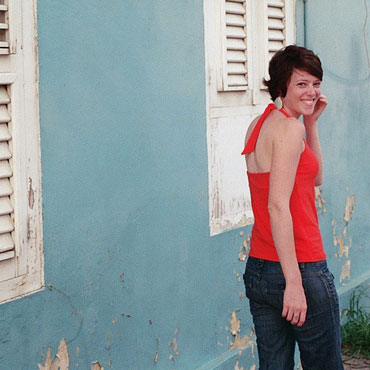 Ellie Snow
Ellie Snow received a BFA in printmaking from the University of North Carolina at Chapel Hill, and afterward tried (and hated) about four different career paths before transitioning into her current career path as a freelance graphic designer. In 2008, Ellie launched her design blog, Mint, and got engaged shortly thereafter. After receiving great feedback on the stationery she created for her own wedding, she began designing for other couples. She is now a freelance designer and runs a stationery company called Hello Tenfold.
What's the most exciting thing you've done? My husband and I spent a few months traveling in Thailand, with a couple short trips to Laos and Malaysia. It was the time of our lives and we dream about going back!
What inspires your designs? Nature, vintage ephemera, pattern, typography, art and color. My husband is a super talented designer, so he's very inspiring and encouraging.
Tell us about your wedding. Our wedding took place in the same church my ancestors were married in in the 1800s, in my hometown of Wilmington, North Carolina. Our wedding reception was at a beautiful, open-air venue on the beach. We bought a few big white paper lanterns, lots of ferns and luminaries, and let the scenery take it from there. It was an eat-on-your lap affair, with lots of rocking chairs, seafood, and a great Motown band. I wore a slightly untraditional, oyster-colored gown with lots of pleats and folds and my husband wore a very sharp grey suit. We lucked out with the most perfect weather imaginable.
Where did you honeymoon and why? We went to Bon Aire in the Netherland Antilles. We picked it for the laid-back feel and many off-the-beach snorkeling sites.
Describe the place where you design. Where I design depends on my mood! Sometimes I design from our kitchen table, where I have a great view of our backyard. Occasionally I prefer to sit on the couch with the TV going, but when I really need to concentrate I head downtown to a coffee shop. I couldn't survive without my laptop!
What's on or in your nightstand? Lots of books. I'm always reading a few at once.
What city do you call home? I live in Durham, NC. There are lots of renovated tobacco and textiles mills, the beautiful Eno River, and Duke Gardens is a great place for a picnic!
What is your most prized possession? Artwork by my grandparents.
What are your favorite colors of the moment? Marigold, atlantic, and chartreuse.
What were the colors of your childhood? Blue and yellow, absolutely.