These are our letterpress designers.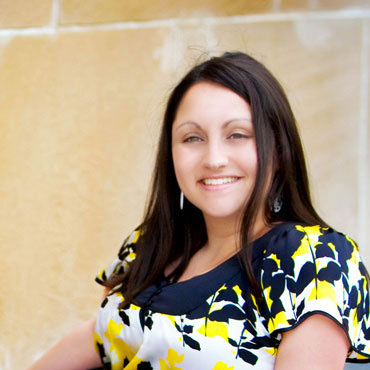 Aimee O'Boyle
Aimee O'Boyle has a BS in Textile from Philadelphia University with a concentration in Printed Textiles. Though she originally planned to go to school for architecture, her love for design, pattern and color led her to study textiles instead. After finishing up school, she went to work for Lily Pulitzer where she had the opportunity to design fabrics for their children's collection.
What's the most exciting thing you've done? My sister and I dropped everything and moved to San Diego in 2000. Neither of us had ever even visited our new " home" before we parked our cars there.
What are your favorite colors of the moment? Pewter and pumpkin are my current favorites but I change my mind daily on my favorite colors. If you asked me tomorrow, I would probably pick something totally different.
What inspires your designs? I am inspired by everything that I see, whether it be architecture, nature, kids playing, falling leaves—inspiration really can be found in anything!
Tell us about your wedding. We had a really romantic and classically elegant affair in Brookfield, Connecticut. We used a cherry blossom theme and kept everything very pale pink with scattered black accents. Lots of friends and family were in attendance which made the day that much more special. To this day, people are still talking about how much fun they had at our wedding!
Where did you honeymoon and why? We vacationed at a lovely resort, Sunset at the Palms, in Negril, Jamaica. Too bad it was during hurricane season though, because it rained every single day that we were there!
What city do you call home? Right now home is Kansas City, KS— Prairie Village to be more specific. Some of the must-see things in this area are the Plaza (the shopping and restaurants are top notch), taking a drive through Mission Hills and down Ward Parkway (the homes are to die for) and finally Deanna Rose Farmstead (more for the kiddies but it amazes me that its free and run solely on donations). And, of course, if you ever stop by Kansas City, it's a must that you try some true BBQ (I highly recommend Jack Stack).
Describe the place where you design. Right now I work at my computer station in our great room. It's not a fancy office or studio space but it allows me to stay in the same room with my three year old daughter while I do my work.
What were the colors of your childhood? Pink, pink, pink and more pink—and maybe a little green thrown in for good measure.
What's on or in your nightstand? An inhaler, Bath & Body works hand lotion, jewelry and anything else that lands in the drawers. Exciting stuff, huh?
What is your most prized possession? My family. Ok, that's not really a possession but they are the only " things" I could not live without.