These are our letterpress designers.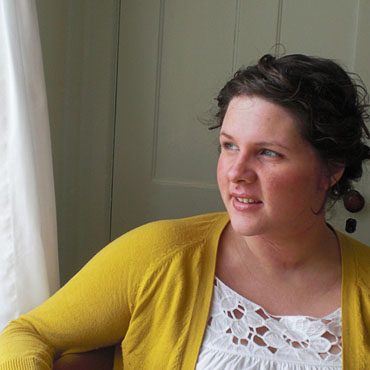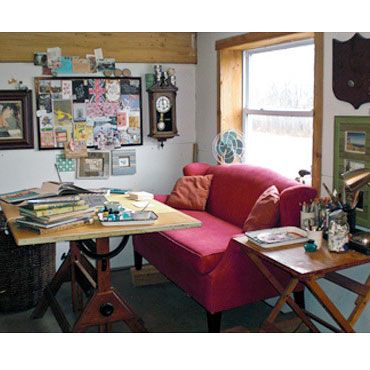 Patricia Mumau
Patricia Mumau is a recent graduate of the Rhode Island School of Design, where she received a BFA in Illustration. While at RISD, she spent a chunk of her time abroad with the European Honors Program, a year of independent study centered in Rome, Italy.
What's the most exciting thing you've done? Camping never seems to get old—the sound of rain pitter-patting on a tent, sneaking a view of the stars at 2:30 in the morning out the lean-to, the sweet smell of balsam and earth, watching the woods as you're hiking along transform from forest into a grand cathedral, standing atop a mountain and literally feeling the earth beneath your feet, the view of a cotton candy sunset reflected on lake waters—there are few greater things.
What inspires your designs? 1940's kitchens, European and American folk art, nature, simple stitch embroidery, vintage children's books, happy thoughts
What city do you call home? Yates, New York. It's a little town in Upstate orchard country, on the ridge of Lake Ontario. Down the road is our secret local treasure, the Robin Hill Arboretum, a family estate open to the public with over 250 varieties of trees on the property.
Describe your life. I live on a farm with my family, a couple cows, too many ducks, thirty chickens all named Helen (yes, all of them), a pair of milking goats, a dog because every farm needs a dog, and cats to keep the mice away. Coffee in the morning is a must. (I keep trying to convert myself to habitual tea-drinking, but it's a hopeless cause.)
Describe the place where you design. I keep a studio space up in the loft of one of our out buildings that we use for storing wood in the winter. The place is a mix of works in progress, inspiration, and things that should belong to a 90 year old woman.
What's on or in your nightstand? Letters of E.B. White, compiled by Dorothy Guth (I read it this summer and recently checked it out of the library again…missed it like a dear friend), a wonderful wind-up Westclox with a chime that dings like a lazy bell at sea, and bobby pins.
Where is the best vacation you've ever taken? I've been going up to the Adirondacks every summer since I was a little girl. It's hard to imagine a summer without the place.
What are your favorite colors of the moment? Pewter (graphite, steel…any gray, and all the time), pool, papaya, olive
What were the colors of your childhood?A lot of brown comes to mind
What is your most prized possession? Friends and family