These are our letterpress designers.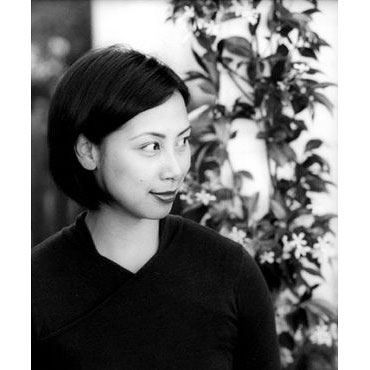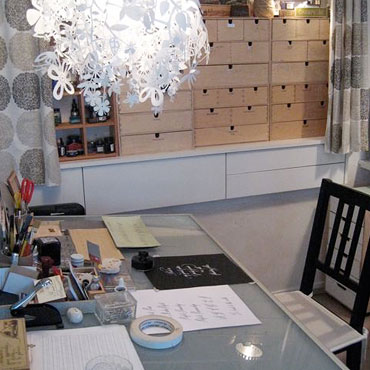 Maybelle Imasa-Stukuls
The summer after graduating with her BFA in Graphic Design, Maybelle Imasa-Stukuls took a job as a flight attendant. Her routes took her to international destinations such as London, Paris, Frankfurt, Tokyo, Shanghai, Hong Kong and Sydney (to name a few). These experiences play a major role in how Maybelle now works, and she has been known to go to Paris just to pick up a particular calligraphy nib. One of her great loves is sending handwritten notes from faraway places, a habit which inspired her book The Perfect Note (published by Chronicle Books) where she created illustrations, cards and rubber stamps all housed in a lovely keepsake box. She has also collaborated with Martha Stewart Weddings, where she worked on set at their studios in New York City, creating created calligraphic swirls on large chalk boards which were the background designs for a wedding cake story.
What inspires your designs? I am most inspired by my every day experiences, travel, beautiful packaging, old children's books, botanical illustrations, old maps, Japanese craft books, Marie Claire Idees, embroidery, old letters, stationery stores.
What is your most prized possession? My collection of handmade Japanese tea cups. I pick one up to hand carry back each time I visit Japan.
What city do you call home? It's funny, we have lived in the San Francisco Bay area now for nine years, but I still consider Hawaii my home. If you ever make it to Oahu, you must spend some time on the windward side of the island, rent a kayak, and paddle with the sea turtles on Lanikai Beach.
What's on or in your nightstand? Mira Calligraphiae Monumenta, a fantastic collection of calligraphy and botanical illustrations from the Getty Museum. My sketchbook. And a glass of tap water.
Tell us about your wedding. We were married on the island of Oahu, where I grew up, at a ranch that takes you back to the feeling of old Hawaii. A tree-lined dirt road leads you to the property that is surrounded by acres of Banyan trees, native flower and fruit trees. Because the location was so spectacular, we kept the style of our wedding very simple and understated. I carried a few stems of my favorite flower, calla lilies, and my husband wore a Maile leaf lei, a Hawaiian tradition symbolizing rare and true love. Our ceremony was held under a row of royal palm trees. Afterwards we spent the afternoon feasting on many local delicacies while a trio of musicians played Hawaiian music in the background. That was ten years ago, but we remember it like it was yesterday!
Where did you honeymoon and why? We were engaged in Bali, Indonesia, a place that we had always wanted to visit, so we spent our honeymoon on some of the other Hawaiian islands—Maui, Kauai and The Big Island.
What's the most exciting thing you've done? Becoming a mother to our twins, Gunnar and Ligaya.
What are your favorite colors of the moment? Espresso and pewter.
What were the colors of your childhood? Aquamarine and mango.