These are our letterpress designers.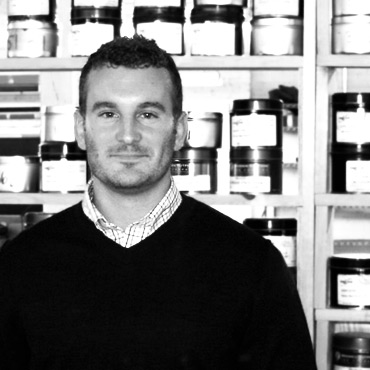 Kyle Laatsch
Bella Figura
What's the most exciting thing you've done? I went to see the New York Knicks at Madison Square Garden. It was my first time going to a professional game and to see it in such a historic arena was really incredible.
What inspires your designs? I'm really drawn to modern and minimal styles. Anything from modern kitchen design, furniture, and artists like Donald Judd are perfect. I love simple lines—and you can see them in almost any application of design now.
What city do you call home? Although I was born in Nashville, Tennessee, Syracuse is the place I call home. Spending my whole life here has really made me appreciate all the things Upstate New York has to offer.
Describe the place where you design. I always design at my desk. I am by no means a traditional artist and I love computer generated design. A pair of headphones and a tablet and I'm ready to work.
What were the colors of your childhood? I was always surrounded by blue because I could never wear enough of it. I spent most of my summers on a golf course so those colors really stick out. The greens of the grass, reds of golf bags and bright whites you'd see on shoes are all great memories.
What's on or in your nightstand? On my nightstand right now is a lamp, a book on log cabins, and a quote of the day calendar. It's a pretty simple lineup but that's how I like it.
What is your most prized possession? My relationships. Without friends and family there's really nothing else.