These are our letterpress designers.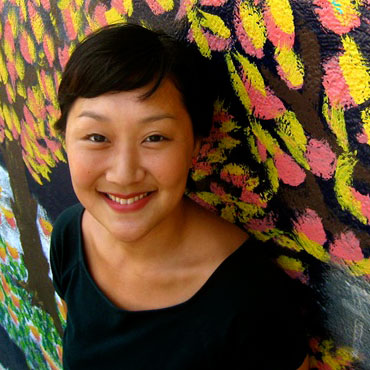 Erin Jang
Erin Jang is an art director and designer living in New York City. She has worked as a designer/illustrator/art director at several publications including Esquire magazine and is currently the senior art director at Martha Stewart Living magazine. She runs a design studio on the side called The Indigo Bunting (
theindigobunting.com
) and works on custom freelance design projects and wedding invitations. Her design and illustration work has been recognized by PRINT magazine, Communication Arts, and the Society of Publication Design.
What's the most exciting thing you've done? I love traveling — most recently my husband and I spent a week hiking in the Alps.
What inspires your designs? Vintage record jackets, illustrations in old cookbooks and children's books, nature, travel, things I find at flea markets
What is your most prized possession? I love the engagement ring my husband gave to me. It is small and vintage — rose gold with moonstone. It is one of a kind.
Tell us about your wedding. Our wedding was simple, rustic and very much us. Everyone rode the ferry from Seattle to a small island for the wedding. I walked down the aisle to a jazz trio playing our favorite song. My sister read a beautiful poem she wrote about us. Friends shared funny stories during the meal. And our first dance was to a Jimi Hendrix song.
Describe the place where you design. My "studio" = wherever there is space in our city apartment
What were the colors of your childhood? Clover, umber, marigold and red — the colors of the burger joint my parents ran when I was little
What's on your nightstand? A pinecone I picked up from a hike and a big pile of magazines
What city do you call home? New York is currently home. There are too many things I love about the city to list here. Just a few favorites: the Village Vanguard, the Brooklyn Flea, the MoMA, the Spencer Finch installation at the High Line, and spending a day walking or biking around a neighborhood.
What are your favorite colors of the moment? Grey and neon orange