These are our letterpress designers.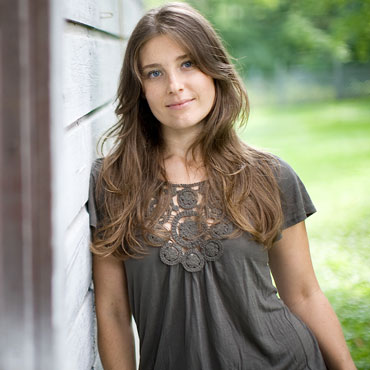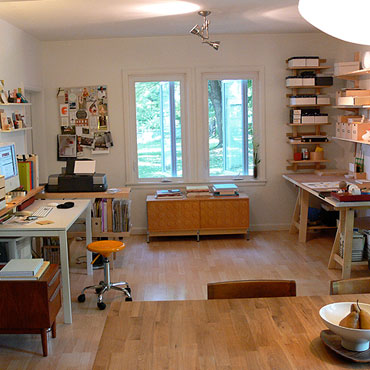 Tara Hogan
Tara Hogan is the founder of Ink+Wit, one of the most original and sweetly cool stationery lines out there. She vigorously studied illustration and design at Syracuse University, and also has worked as a prop stylist, web designer, and yoga instructor. Describing her design inspirations, she writes, "Early experiences of my native New England state of Connecticut influenced my love of weathered materials on the shore in addition to coastal birds walking amidst thin brushes of seaweed and sticks. In addition, the diversity of New York City, being only an hour away from home, opened my eyes to a larger scale of proportions and grandeur. I have a loving appreciation for nature's intricate beauty combined with modern urban style. I see the world as organic and bright."
What inspires your designs? 1] nature 2] animals 3] yoga 4] travel 5] Scandinavia 6] architecture 7] vast open space with low horizons and brushy vegetation
What's the most exciting thing you've done? Trained with Master Yogi Sri Dharma Mittra in NYC for my advanced yoga certification.
Describe your wedding. Our wedding was outside lakeside at a beautiful inn. We had a very elegant ceremony outdoors set with white rose petals down the grass aisle. My husband and I were under what looked like a huge bonsai tree. White wooden chairs sat our guests. Small wedding party, very few decorations and the ones we had were bold and set in the main areas of the inn. I wore a dupioni silk dress made by Pronovias. It was sunny and lovely. Perfection.
Where did you honeymoon? Key West for 4 nights. It was short and sweet. Relaxing and convenient. Our intention was to go to Ireland but we decided to book it for another time.
Favorite projects: Working with The Woodstock Farm Animal Sanctuary (Woodstock, NY) on a letterpress print to help raise money for their animal hospice was one of the most rewarding projects ever. I designed and illustrated a series of farm animals as a 1-color letterpress print. This print's info was referenced in the November 2008 issue of Yoga Journal in an article about my design and yoga. In addition, working with Brooklyn based business Skinny Skinny on her organic botanical oils label designs and hang tag designs for her bath teas was a lovely project
What are your favorite colors of the moment? clover, cream, taupe, pale gray, pewter
What were the colors of your childhood? navy, grass green, chocolate brown, red
Describe the place where you design. In process, as always. I am always editing it down even more and adding in pieces of work and furniture that fit my current mood. The space is simple and airy.
What's on or in your nightstand? Coconut scented lotion, The Bhagavad Gita (Classic Yoga Scriptures) and Dwell Magazine
Also see: Yoga Journal
Design Sponge
Real Simple