These are our letterpress designers.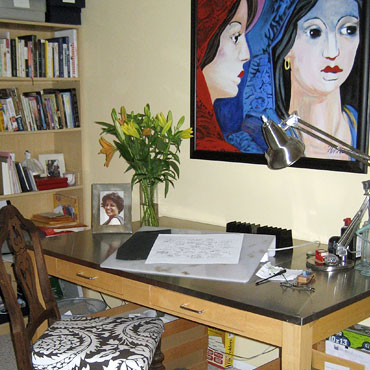 Sarah Hanna
Sarah Hanna comes from from a family of artists. Her mother is a master calligrapher who has studied all over the globe. As a child, Sarah grew up playing in her studio, so fine lettering has always been a part of her life. She started her own calligraphy and design studio 10 years ago, after graduating from university. Her work has been featured in InStyle Weddings, Southern Weddings, The Atlantan Bride, The Knot, Brides Florida, The Washington Post, and on Platinum Weddings and The Today Show.
What inspires your designs? Easily, travel is what inspires my art most. A close second is gorgeous food, jazz, and the stillness in my grandmother's garden. For custom designs, listening to the client is all the inspiration I need. My goal is to turn their ideas into something tangible and lasting.
Where was the best vacation you ever took and why? On one trip to London, I became an accidental tourist. I was there because my faaabulous aunt had generously given me center court tickets for the finals week of Wimbledon. On this trip, I stumbled across the opening ceremony of the Tour de France in Trafalgar Square. Then, at Kew Gardens, I was treated to a private concert by the Buena Vista Social Club. And the emergency little black dress in my suitcase came in handy for a black tie gala in Regents Park—'A Midsummer Night's Dream' performed under the stars. In retrospect, I should have purchased a lottery ticket that week…
What's the most exciting thing you've done? I am currently working on mixed media fine art commissions incorporating wedding vows…perfect for the first anniversary (traditionally paper) or just as an excuse to add something beautifully customized to your home. I calligraph the vows throughout the piece, using the words as design elements. The finished artwork is layered with meaning, so there is always something more to discover.
Describe your style. I grew up in the islands and that is evident in my living style. Dark woods with white upholstery, neutral walls accented with boldly colored artwork. I am a minimalist, so everything in my home gets used and is treasured.
Describe the place where you design. I sit at a giant steel-topped table to work. Above me is a painting I did long ago after coming home from Spain. My bookshelves have, from top to bottom, books on etiquette, foreign language, and the culinary arts. Fresh flowers are a staple in my studio.
What's on or in your nightstand? An old black and white photograph of my grandparents, magnificently dressed. The photo was taken the night my grandfather was honored with the title Commander of the British Empire for his contributions to industry, commerce and philanthropy in Jamaica.
What are your favorite colors of the moment? I am feeling bold at the moment, so I love the energy that daffodil and aquamarine evoke. At the end of a long day, though, powder blue is a girl's best friend. It is classic and delicious and true.
What were the colors of your childhood? The blues of the Caribbean water and the graded greens of the Jamaican Blue Mountains.
What city do you call home? Winter Park, Florida. Don't miss al fresco dining and shopping on Park Avenue. And definitely don't miss Cirque du Soleil's performance 'La Nouba.'
What is your most prized possession? I recently replaced my dining room table with a baby grand piano. In the words of Rodney Dangerfield, "I love to drink and sing. My friends would rather hear me drink."