These are our letterpress designers.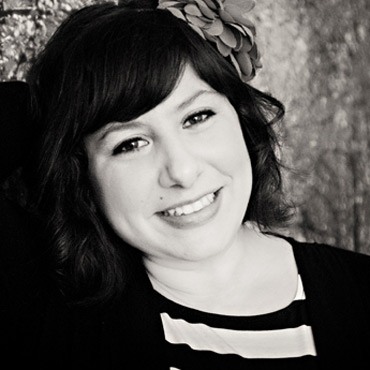 Carolynn Giordano
Two Brunettes
Carolynn attended the University at Buffalo where she received a BFA with a concentration in communications design. Just after school she landed a career in advertising where she found herself constantly creating other peoples visions. After a couple years of striving for that creative control the universe gave her a little push. Carolynn soon began a small blog, and started to get several inquiries for other blog designs and graphic design work. She then founded her current company, custom design studio Two Brunettes. Today her main focus is web design, custom illustration, and stationery. She is an observer and constantly inspired by her own clients and the design world around her.
What's the most exciting thing you've done? I feel like I have done some exciting things but hands down the most exciting thing I've ever done was having my daughter.
What city do you call home? Endicott, New York is where I was born and raised, that will always be home but I currently call Syracuse, NY home.
Describe the place where you design. A little nook, in my home office. Lots of bright colors around me for inspiration, fresh flowers, dog bed, and my daughters toys scattered on the floor.
What inspires your designs? Cliché, but I am always inspired by everything around me, nature, animals, kids, fun foods, beautiful textiles, and interior design. Kids are big one for me right now though.
Tell us about your wedding. My wedding was tradition with a twist. Upstate New York, is very hard to do an outdoor ceremony, but I'm stubborn and wanted a garden wedding with bight colors, tons of flowers and natural elements. I ended up tracking a huge storm on someone's Iphone on the way down to the gardens. I walked down the isle with a clear umbrella, thunder in the distant background and we said our vows before a massive down pour. It was actually very romantic!
Where did you honeymoon and why? Our honeymoon was in Grand Cayman, which was the best vacation of my life. We picked it because we wanted something tropical, and a island we could explore. Lots of sun, adventure, and amazing food.
What were the colors of your childhood? Rainbows! I loved saturated bright and fluorescent colors, totally 80's. My room was bubble gum pink, which I quickly grew out of but loved at the time.
What are your favorite colors of the moment? I love this question "at the moment". My favorite colors always are any shade of green, and at the moment I am loving, bright punchy peaches, garden greens, golds, and creams.
What's on or in your nightstand? Recent post from my husband's Facebook wall "Just had to go through my wife's side of the bed and contents as follows: 8 tubes of oil paint, 1 Christmas tree ornament, 2 pens, dog hair brush, 1 paintbrush, 1 wooden donkey, 3 baby books (two of the same book), scissors, 2 fabric swatches."
What is your most prized possession? My family, and my iMac, both comparable right?