These are our letterpress designers.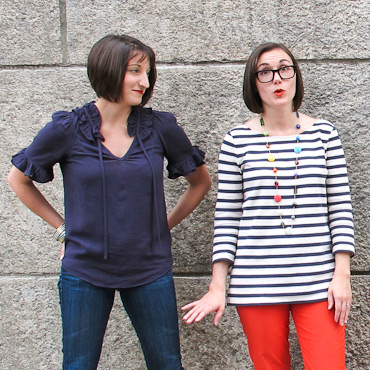 Gina Dean and Lauren Richel Kelly
Ditto Paper
Gina and Lauren met at Maryland Institute College of Art in Baltimore where they each earned a BFA in Graphic Design. In between classes, they made award-winning Halloween costumes, thought about becoming teachers, danced a lot, and became good friends. For a short + sweet time, they worked together on the Kate Spade New York creative team in Manhattan where they both fell in love with floral patterns, thick paper stock, bright colors, and wide stripes. Between them, they've also logged years of experience at Martha Stewart Weddings, Anthropologie, and J.Crew.
Describe the place where you design. Gina: I work out design ideas in my head as I admire my budding herb garden on the back patio or the original civil war-era wood paneling in our living room. However, execution occurs at a tiny desk in the corner of our one-bedroom apartment. Lauren: My studio/office/den is a tiny postage stamp sized space that is chock-full of objects I love: the amazing hand-made wooden architect's desk that my iMac sits on, my grandmother's singer sewing machine circa 1932, drawers full of vintage envelopes and office supplies, and floral Liberty of London fabrics piled high.
What inspires your designs? A bit of wit goes a long way to create the perfect balance of beauty and personality in each of our designs. Whether it be color, pattern, or type, each piece we make incorporates an element of fun.
Tell us about your wedding. Gina: Family and friends gathered on a sunny June morning in the small chapel next to the high school where my husband and I first met. My bridesmaids (including Lauren!) carried candles down the aisle rather than their bouquets to set the intimate, spiritual tone of the ceremony. Our ballroom reception was decked in soft neutral creams and whites, accented by additional candles and simple rose petals. When I dipped my husband during our first dance, our guests knew that was their cue to really let loose on the dance floor (and boy did they!). Lauren: Our wedding was a french-inspired afternoon garden party outside on the lawn by the water. The day was very colorful, complete with red and white striped straws in each cocktail glass. My bridesmaids (including Gina!) kept me sane as we nervously awaited the rain to clear before the ceremony. The live music was great, and despite the insane summer heat we had so much fun (thank goodness for the ice cream sundae bar).
Where did you honeymoon and why? Gina: We found an amazing luxury eco-lodge in Saint Lucia that could offer us the right mix of relaxation and adventure, all with the incredible Piton mountains as its backdrop. Lauren: For the first half of our trip we went to Marbella, Spain, because my husband studied Spanish and loves the culture. We spent the second half of the trip in Paris, because I studied french and because I am a huge francophile (as evident from the salon wall in our apartment).
What city do you call home? Gina: We live in beautiful, historic Philadelphia; close to our families, childhood friends, and the liberty bell. Lauren: Currently, home is Pleasantville, New York. And yes, it is a very pleasant place.
What are your favorite colors of the moment? Gina: Lately, I cannot stay away from navy and aqua—separately or in combination. Lauren: I'm always a fan of pale warm grey paired with a bright orangey red (like geranium).
What were the colors of your childhood? Gina: Brights! Brights! And neon brights! My mother would choose the most outrageously loud swimsuits for my sisters and me to wear each summer ... it was the 80's after all! Lauren: Bright red fresh-picked strawberries, green grass, brown woods and the unending blue skies of upstate New York.
What's on or in your nightstand? Gina: Eyeglasses, vintage linens, and old costume jewelry that belonged to my great-grandmother. Lauren: A lamp to read by, books: The Time Traveler's Wife, Pride and Prejudice, The Elements of Style, my five-year diary designed by Tamara Shopsin, a notebook to write down ideas that always come in the middle of the night, a pen, and my favorite painting of the Berkshires by my great aunt.
What is your most prized possession? Gina: All of the wonderful people in my life. Lauren: Ditto