These are our letterpress designers.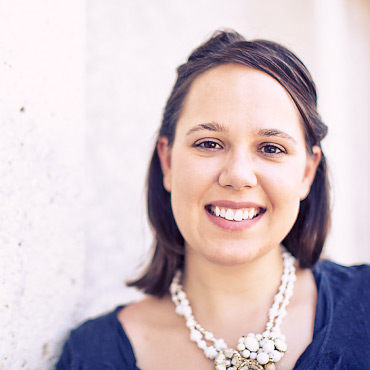 Nicole Black
Nicole Black was raised in a creative environment with a mother who (also left handed) ran her own creative business and a father who was an expert wood craftsman hobbyist. Nurturing the scientific side of her education, Nicole earned her Bachelor of Science degrees in Biology and Business from Texas A&M University, followed by working in the medical field and then banking. Eventually, she found a way to collaborate both her scientific/analytical side with her destined creative side, resulting in the creation of The Left Handed Calligrapher in 2007. While much of Nicole's calligraphy education was self driven, she has also studied under the Chief White House Calligrapher in addition to several other respected individuals in the calligraphy field to grow and formalize her hand. Clearly a modern girl, you can see a contemporary hand with a traditional method in her lettering styles.
Tell us about your wedding. We were married in the butterfly gardens at Fair Park in Dallas on a Friday the 13th of April. The goal was a lovely spring garden wedding, but we ended up having a massive storm roll through about 3 hours before that brought tornadoes, hail, flooding and lots of thunder and lightning. Needless to say the garden ceremony was moved indoors to a greenhouse and afterwards we celebrated with our family and friends. They say rain on your wedding day brings good luck, I hope it's true!
Where did you honeymoon and why? We spent our honeymoon on the islands of Hawaii—The Big Island and Oahu. My husband surprised me with the destination, of which I had no idea until we boarded the plane. His reasoning was that there is a reason Hawaii is the number one honeymoon destination in the world so why not see why.
What are your favorite colors of the moment? Charcoal, Mesa and Navy
What inspires your designs? Nature and patterns with repetition and movement.
What city do you call home? Dallas—thankfully it is not just about food and shopping (although there is plenty to go around). We have wonderful arts and historic districts and gardens around the city.
Describe the place where you design. I design from my home studio. A cozy room that contains my writing table, radio for NPR listening, a dry erase board and plenty of shelving for my art supplies. The other half of the room contains a steel case desk and think chair to keep me comfortable while working on the computer. Plus my little collection of letterpress art prints.
What were the colors of your childhood? Geranium and Navy
What's on or in your nightstand? I keep a Lucite lamp, glass of water, lotion, pen and paper for dream notes, the book of the month and the love letters my husband and I write to each other.
What is your most prized possession? A photo a friend snapped of my mom and I while I was in college. My dad decided to be a photo bomber and is leaning in over my shoulder. It hangs up right above my desk so I can see them every day.