These are our letterpress designers.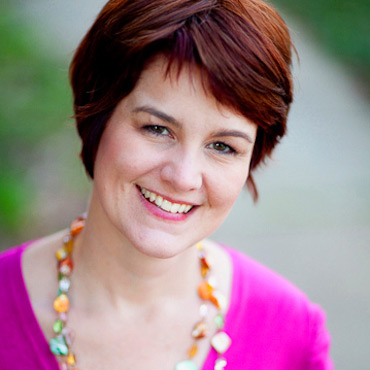 Beth Barr
Midwest native Beth Barr honed her design skills with a Fine Arts Degree with emphasis in Graphic Design from Southeast Missouri State University. From Coca-Cola® and cars to Sharpie® and sewing machines, she spent the next 10 years designing for brands in the sales promotion and ad agency biz. She also snatched up a creative director husband and had two baby girls, and a change of pace was in order. So with her passion for typography, paper and printing and a desire to connect personally and collaborate with clients from outside the confines of the agency environment, she founded Two Blue Doors Design Studio - the go-to design house in Saint Louis for discerning brides and corporations looking for thoughtful, custom designs that reflect their events.
What inspires your designs? I draw inspiration from who I'm designing for and I enjoy collaboration and thoughtful details. I'm personally inspired by nostalgia and vintage elements—typography, philately, old magazines and photographs, architecture and textiles.
Tell us about your wedding. We love everything about autumn in the midwest, especially the colors and the mild weather. As luck would have it, our wedding was the perfect October day. We tied the knot in a historic church-turned theatre located in St. Louis' Theatre and Art District. The Romanesque architecture and ballroom space with it's beautiful stained glass was the perfect backdrop. The palette consisted of colors and textures of fall: red, dark purple, orange and terracotta florals with seeded eucalyptus, carved white and orange pumpkins, gourds and cornucopias.
Where did you honeymoon and why? Hawaii. Neither of us had ever been anywhere tropical off the mainland of the US, so we were anxious to experience this together. The first half of our honeymoon was spent relaxing and exploring the peaceful island of Molokai, then we stepped into tourist-mode and explored Oahu.
What city do you call home? St. Louis, but more specifically Webster Groves—a quaint suburb not far from the culture of the city. Webster is chock full of everything dear to us—historic homes, small businesses, friendly neighbors and American charm.
Describe the place where you design. My studio, which is nestled in the business district of Old Webster. I love to design in the studio surrounded by mounds of inspiration—illustration books, paper swatches, the entire library of personal stationery work, my daughters' never-ceasing creations, and the hum of day-to-day business.
What's on or in your nightstand? iPhone—the alarm, snooze, and timer features have nearly eliminated the need for an alarm clock. Communication Arts and PRINT, "borrowed" from my husband, who is also a creative director. A few issues of Real Simple magazine.
What were the colors of your childhood? The glowing colors of a Lite Brite and all of my Berol Prismacolor pencils.
What are your favorite colors of the moment? gold + deep coral / teal + navy + green tea
What's the most exciting thing you've done? starting a family. there is never an un-exciting moment.
What is your most prized possession? Photographs of my mother.