Fabulous Letterpress Ceremony Programs
Recently we've had the pleasure of printing a whole bunch of really great letterpress ceremony programs. In different shapes and sizes and featuring a whole array of different designs, each one is personalized with the colors, fonts and designs perfect for each individual couple and their event.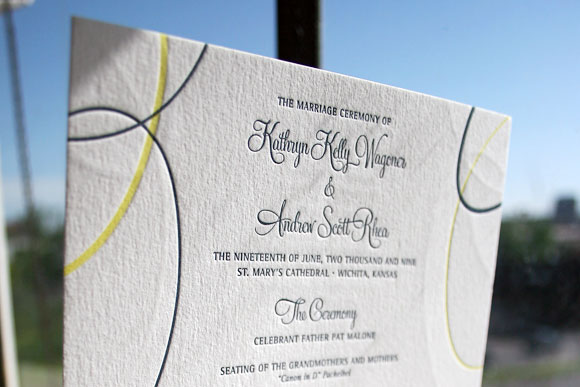 These double-sided programs are in our Suyra design, printed in deep blue and butter yellow inks. They were a full F8 size, the same as our larger-sized invitations, to allow the couple to really maximize the amount of information they could include. In this case, the back of the program featured details on the members of their wedding party.
Decidedly modern in our Flourish design printed in persimmon, these 1-color double-sided ceremony programs are a true reflection of the event this couple was planning. They are fun and whimsical while still perfectly appropriate for their traditional church ceremony.
Perfect for a more formal event, these letterpress programs in our Plume design feature deep blue and antique gold inks and the undeniable flair of hand calligraphy accents. Like the Flourish letterpress programs above, these were double-sided letterpress on our tea length size. We love the elegance a lovely letterpress ceremony program can add to a wedding and look forward to printing many many more.