We are so excited to share that our Bella Figura studio in Greenpoint, Brooklyn has been officially reopened! To celebrate, we are sharing four designs that were inspired by popular wedding venues in the area. If you are looking to make an appointment at our Greenpoint studio, you can do so through our online booking tool here! Below you will find some more details about the inspiration that helped bring these Brooklyn designs to life:
Verdant
The rustic, vintage appeal of the Greenpoint Loft set the tone for our Verdant design. The suite features illustrations that reflect different parts of the venue. The Greenpoint water tower can be found on the reply card, specifically chosen for its unique aesthetic that is visible from all points of the neighborhood. The skyline was incorporated within the suite as a draw from the rooftop view of the Greenpoint Loft. 
Esme
The Box House Hotel inspired the design of our Esme suite. Stunning skyline views can be found at this particular wedding venue which are reflected within the design. Clean, line illustrations can be found throughout such as special touches like a taxi motif along with a small venue illustration of the Box House Hotel on the reception card.  
Vale
The William Vale venue set the tone for our Vale design. Known for its sweeping views near the water and architecturally distinct nature, this venue required an invitation suite that matched the scenery. Our Bella Royal paper echoed the nautical surrounding of the venue with an envelope liner to represent the architectural lines of the building.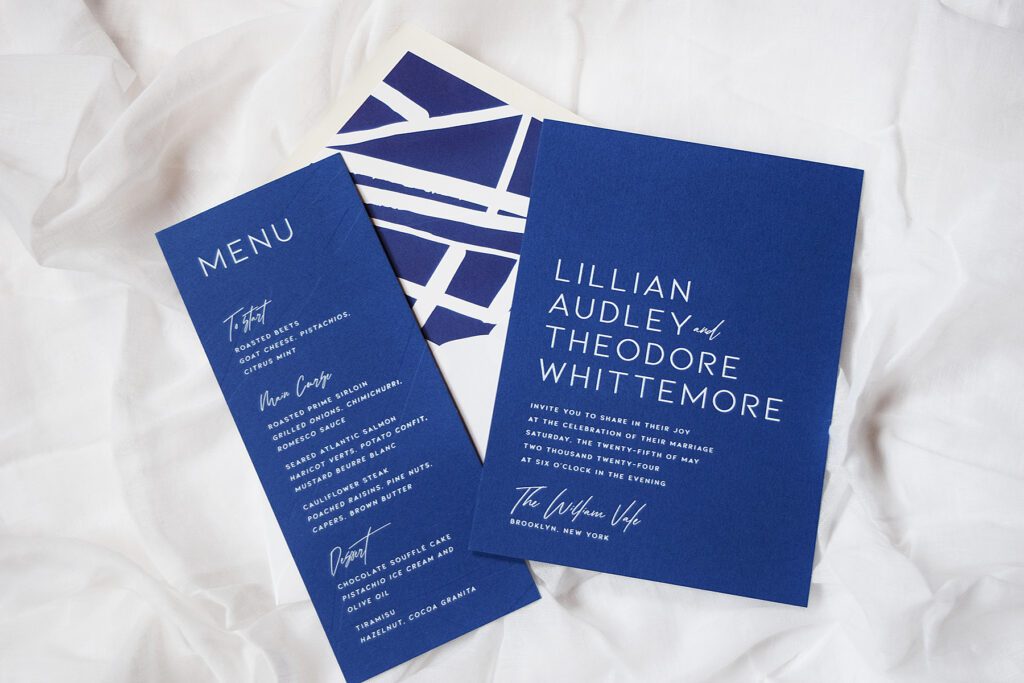 Kent
Giando on the Water looks out to expansive views of the beautiful skyline right on the water. The Kent design was created to mimic the venue's elegant aesthetic. We kept the design simplistic yet intriguing to look at with touches of Brooklyn to be found throughout.