Mimosa Letterpress Wedding Invitations + Inserts
Printed in pool and peacock inks, this version of our Mimosa design features a fun pairing of 2-color and 1-color letterpress pieces detailing travel information and weekend events for guests of this lakefront wedding in Wisconsin.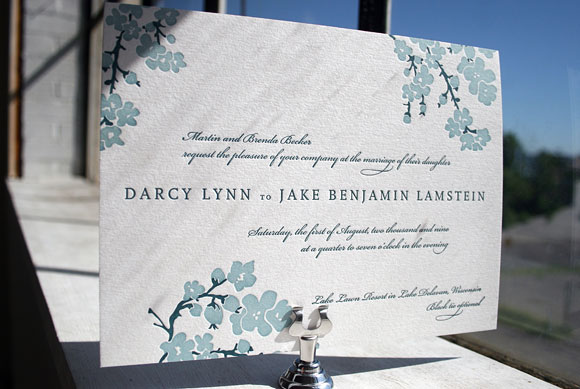 The letterpress wedding invitation itself is printed in both pool and peacock, a unique pairing of ink colors that is perfect for a waterfront celebration.

This letterpress card is a simple insert detailing travel information and accommodation details for guests traveling to Wisconsin for the wedding. It is printed in peacock ink.

Also printed in 1-color letterpress in peacock ink, this insert card invites guest to a separate welcome dinner held the evening before the wedding. We love the combination of pretty 1-color inserts with this 2-color letterpress wedding invitations – it's a great way to save money on your letterpress inserts while still showing off a great 2-color design on your main invitation.