Meet the Designer: Courtney Jentzen of Swiss Cottage Designs
Hello from Brooklyn! I'm Courtney from Swiss Cottage Designs and I'm so excited to be a part of the Bella Figura family. I love the unique styles and print methods Bella Figura offers to their brides. I am certainly looking forward to the 2015 release, it's going to be a good one full of new treats (especially from us!) Thanks for having us on the blog!
This blog post is a peek into our life here in Brooklyn. I founded Swiss Cottage Designs in 2009 after working in the design industry for 4 years. While those years were filled with amazing professional experiences, I always knew I wanted to work for myself. Thus, SCD was born! We specialize in illustration, invitations and custom branding. In the last 5 years we've had the pleasure of working with brands such as Warby Parker, Crown Publishing, and of course, Bella Figura! As well as many, many wonderful couples and planners. I feel so lucky to be in such an amazing and inspiring industry.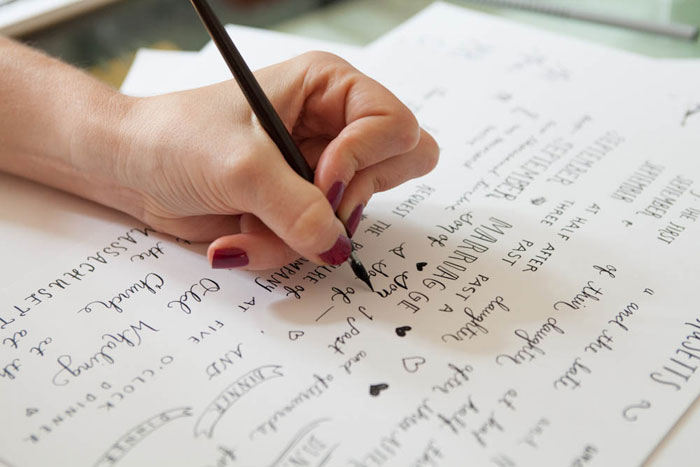 We're located in Carroll Gardens, a Brooklyn neighborhood of tree lined streets, historic brownstones and about a million places to grab tasty treats (it's kind of a problem, really.) We have a home studio which means the neighborhood becomes sort of like a co-worker. We have two huge windows in our office that look out onto the street. I love glancing over to watch the neighborhood pass by our windows. I see the seasons change all from the comfort of my little desk. While the space is small, we've made it work for us with clever organization and about $800.00 worth of IKEA storage boxes. I love the freedom that working out of my home provides, and while it's not for everyone, it certainly works for me.
I have tried to make the space a place where I feel calm and really want to spend time in. Because, if I'm being honest, I'm in here a lot! I have a large inspiration board above my desk that I'm constantly tinkering with; adding and subtracting new bits and pieces. I've reached capacity on wall space as each open spot is filled with pieces of art to inspire me throughout the day.
A day typical day (if there is such a thing) around the studio consists of lots and lots of emails, drawing, scanning, painting, designing, packaging, eagerly awaiting shipments from the printer, opening said shipments with bated breath, more emails, drawing, packaging and of course illicit amounts of coffee and tea. Running a business is the most incredible experience yet can be just as equally frustrating! There are days when the printer jams all your envelopes, a FedEx package goes missing and a press run comes back wrong and you just want to phone it in. Then you have days that are better than anything you could have imagined. I wouldn't trade it for anything.