Looking to wow your guests with letterpress wedding menus?
Our stomachs rumble on a daily basis when we read the delicious menus that our lovely clients (you!) choose for their wedding receptions. With choices like organic greens and crabcakes, spicy tuna and beef tenderloin, we see tasty options for everyone. For all the foodies out there, feast your eyes on these gorgeous letterpress wedding menus!
[Make the menu stand out with a bold title. Weber by Jessica Hische.]
[Our popular Bejeweled design is letterpress printed in 2 colors for a crisp, modern menu. Design by Kamal.]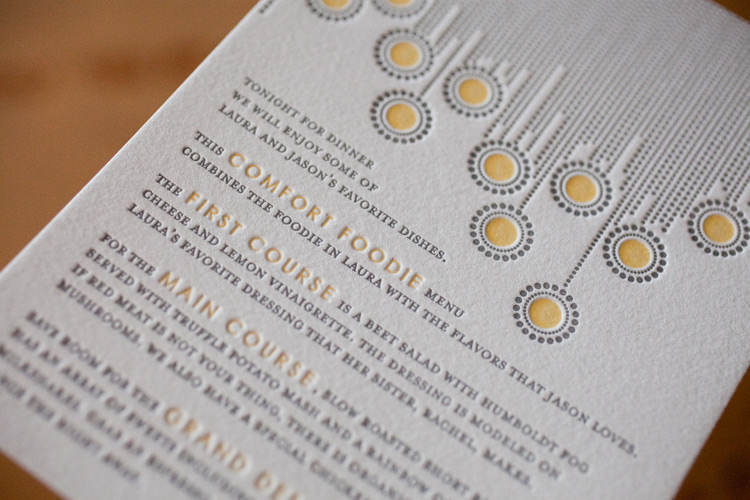 [Did you know our menus can be printed in any language? This menu features the Harp design by Tara Hogan.]
[Tie in the details of your invitations and your decor with our free motifs! We love this elegant Walden menu, designed by Beth Ann Seal.]
[ A classic Deveril menu, another popular design suite from Beth Ann Seal.]
[Keep things sweet with our colorful Somersby, a whimsical design by Beth Ann Seal.]
Our standard menu size is the A6, which measures in at 4.625 x 6.25 inches. We can also print tea-length menus (3.875 x 9.25 inches) for an additional charge.
Wondering about wording? View our menu etiquette and wording or feel free to contact us!