How to pick the perfect monogram
Adding a monogram to your letterpress wedding invitation suite is a stylish and sophisticated way to personalize your paper goods. We offer a variety of options for 1, 2 and 3 letter monograms, and you can add a monogram to any of our 300+ invitation designs for no additional charge! Monograms can be created from any of our fonts for free, but if you're looking for a custom, hand-calligraphed monogram, those are also available (additional charges do apply). Today we're sharing some inspiration for monograms that will go perfectly with a destination, formal, modern or vintage wedding invitation set — use these ideas to help pick the perfect monogram for your own letterpress wedding stationery!
DESTINATION
This destination invitation not only uses sea-inspired colors, but a monogram created from the indigo font paired with star motifs. Both the font and stars of the monogram reflect the tailored look of a sailor's uniform – making it a perfect addition to this nautical inspired invitation. If you're having a destination wedding, consider incorporating a symbolic motif into the monogram.
FORMAL
Formal invitations tend to work best when an ornate, yet elegant monogram is added, so keep this in mind if you're having a traditional wedding. Monogram 1o takes on the appearance of a royal seal and gives this invitation a completely dignified look.
MODERN
Bright colors and quirky, over-sized, hand drawn fonts can really modernize an invitation. We used monogram 2j on this wedding invitation for a fun, playful look that represents the bride and groom's connection. If you're having a modern wedding, consider a monogram that reflects the personalities of the bride and groom.
VINTAGE
This invitation encompasses the art-deco feel of the 1920's, when flappers and speakeasies were all the rage. Using inspiration from vintage signage from this era, we paired the Strana script font and monogram 3e – a combination that will take you back in time. If you've decided on a vintage theme, be sure to select a monogram that reflects the old-fashioned feeling of your wedding.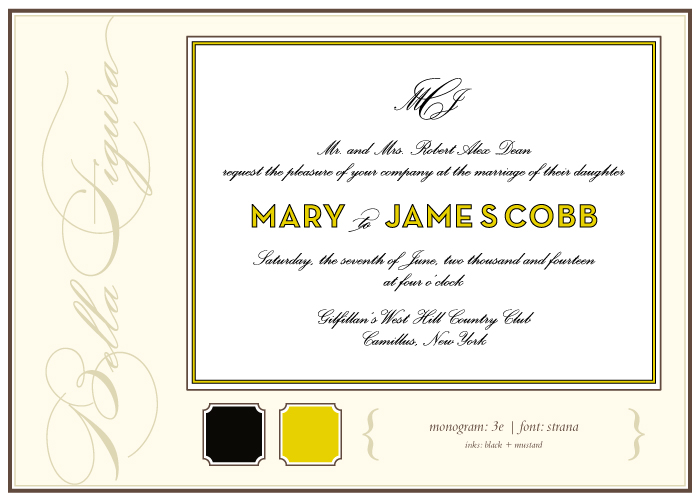 Need more guidance? Have no fear! Our design staff is available for design consultations after you've placed your order, and can answer your questions and offer advice during a one-on-one phone call.