Bella Figura Real Wedding: Shawna & Matt's Vintage Texas Celebration
We love having the opportunity to share real weddings from our Bella brides! This next wedding is filled with so much vintage prettiness — Shawna (a member of the amazing Style Me Pretty team) included lots of personal touches, soft pretty colors, lace, and the perfect dose of Southern charm for her & Matt's springtime celebration. She even started a new family tradition! Shawna decided on our Harlow design for her invitations, and they fit her wedding style to a T. Read on for all of the pretty little details, and don't miss Shawna's advice if you're currently planning your own wedding – she's got some great tips!
Can you share with us a bit about your wedding and your inspiration for the event?
Matt and I had our wedding in Hill Country in Fredericksburg, Texas. The ceremony and reception was at the Hoffman Haus, a cottage property that's close to the main street.  We wanted a charming, home style wedding that we would love always. Our vintage and warm colored décor was inspired by the property; we had doilies, burlap, lace, vintage silver and haybales. Guests were greeted with peach lemonade and mini peach ice cream cones.  The ceremony was a dream, violins played a combination of traditional and beatles songs. It was a simple, pretty garden wedding. Matt looked so handsome in his dark brown 3-piece suit and I loved my dress. The crystals on the belt were from my grandma and my short blusher veil made me feel glamorous.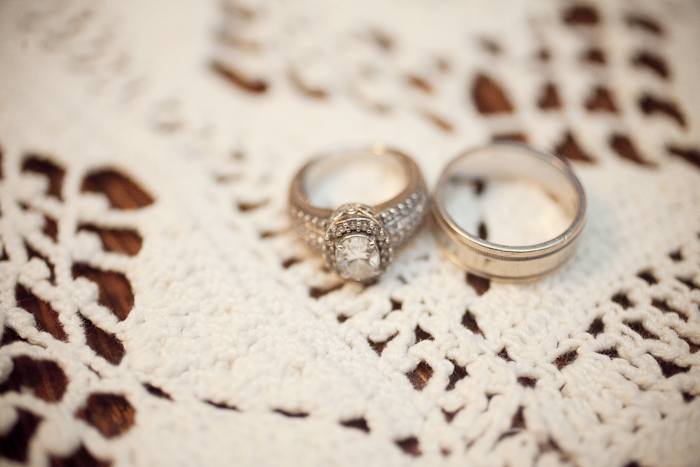 Our vows were more on the traditional side and we had a tree planting with a gardenia shrub. I added photo books, handmade wedding facts about both of our families and matchbooks as additional décor.  The hors d'oeuvres at our cocktail hour and our dinner menu featured a blend of Italian and Texas cuisine. Texas beers and wine were also served. The food stations were fun; we had a yummy bruschetta bar and a Bellini bar that was so pretty. Our first dance was a waltz. We danced with friends to all kinds of music including hip hop, country. Matt played the Texas Tech fighting song before the garter toss. I started a mother/daughters dance tradition in our family: me, my mom and two sisters jammed to Poison by Bobbi Brown. I think everyone had seconds of the wedding cake, it was delicious
What advice do you have for couples currently planning a wedding? It's ok to skip on some things. I skipped the engagement portraits, programs, favors, the groom's cake, florals down the aisle, the drive-away car and tossing or waving something at the end of the ceremony or reception. It's never been missed.
Favorite design element of your big day? That's a tough one, I loved the ceremony décor, lounge seating, florals and the signature stations…everything really!
How did you choose your invitation design & ink colors? I love invitation design and had to have letterpress paper so that's where I started. As soon as I saw the Harlow invitation online I knew I wasn't going to find anything more perfect, the oval design matched the center stone of my engagement ring and is the vintage feeling with added detail. I cheered when I got it in the mail. It was exactly what I expected; it's vintage and classic, the texture of the paper made it feel luxury. The multiple font styles are so fancy and something that I really wanted.  I actually used the same taupe ink color and ivory paper as my sample, the contrast was great for a May wedding, the color was deep without being too light or too dark, just very elegant.  I was going to go with the white paper but I changed my mind, it just is more vintage with the ivory. My bridesmaids were wearing neutral/taupe dresses so it was meant to be.
What was your favorite moment? There are so many to choose from, but I think our first dance was a favorite of mine. Matt and I wanted to avoid the middle school sway and took dance lessons for several weeks. We planned a simple waltz with some dips and twirls, that's actually a really big deal for the both of us. We got very nervous right beforehand but tried not to think about it. I guess our families didn't expect us to have anything rehearsed, as soon as we went out on the dance floor Matt started with a big dip and everyone gasped like they thought he was going to drop me. Of course I was perfectly fine and Matt led me the entire time while whispering sweet words in my ear. In that moment I felt the best kind of romance, being a wife in my husbands arms.
What surprised you most about your wedding? Doing all of the planning and seeing the final result of it all coming together on that day. I guess I shouldn't have felt surprised because I was the one that selected everything, but for some reason on my wedding day I said to myself – oh this is what my wedding looks like!
From all of us at Bella Figura, congratulations, Shawna & Matt! Thank you for sharing your beautiful wedding day with us!

Shawna & Matt's wedding was also featured on Style Me Pretty — click here to take a look! 

Want your wedding to be the next Bella Figura Real Wedding? Click here for more information!

Vendors:

Wedding Photography: Anne Marie Photography / Ceremony + Reception Location: Hoffman Haus / Floral, Event Design + Planning: Unexpected Elements / Calligraphy, Signage + Save the Date: The Left Handed Calligrapher / Catering + Ice Cream: CarteWheels Catering / Linens:Marquee Event Group / Guest Sign-In Book: Blue Sky Paper / Cake + Cake Base: Sophie's Choice Bakery / Music: Altared Weddings / Hair + Make-up: Lucie Marie / Ceremony Music: Theresa Britt / Officiant: Rev. Janice R. McGrath / Chair Rental: Class A / Bride's Shoes: Badgley Mischka via Nordstrom / Wedding Gown: Bridal Designs Southlake / Bride's Sash: Mother of the Groom with Grandma's brooches / Cake Table: DIY Doilies from Grandmother / Bride's Hair Piece + Garter Set:Bella Sorella Couture / Earrings: Nadri via Nordstrom / Veil: Custom Creation by Lucie Marie, Tulle from Things in a Room / Groom's Suit: Ralph Lauren via Dillards / Groomsmen Suit: Joseph A. Bank / Bridesmaid Dresses: Anthropologie, Macy's, J.Crew, H&M / Bridesmaid Shoes: Dillards, Macy's, DSW / Card Holder: Plant Terrarium via Hobby Lobby / Oval Table Name Holders: Hobby Lobby