Bella Figura Design Contest Honoree – Trendy New Washi by Smudge Designs
Today we share with you our trendy letterpress and foil design New Washi by Kamal. When Smudge Designs submitted this Bat Mitzvah order we were so excited to print it! The washi tape pattern is such a perfect design element and looks great on our envelopes!
Joanna from Smudge shares their story:
"They didn't have a "theme" so they were just searching for a beautiful design, something that was fun but still formal and elegant.  Julia fell in love with the New Washi design, but deciding to turn it landscape made it even more unique. We even noticed that it slightly resembled the Star of David, which was perfect for a Bat Mitzvah. Julia knew very early on that she needed this exact shade of purple. They had been shopping at Sephora, and noticed it on a lipstick. Her mother had sent us a picture of the lipstick shade that we then matched to a pantone swatch. We thought the silver foil would be a perfect way to jazz up the invitation, and complement the purple."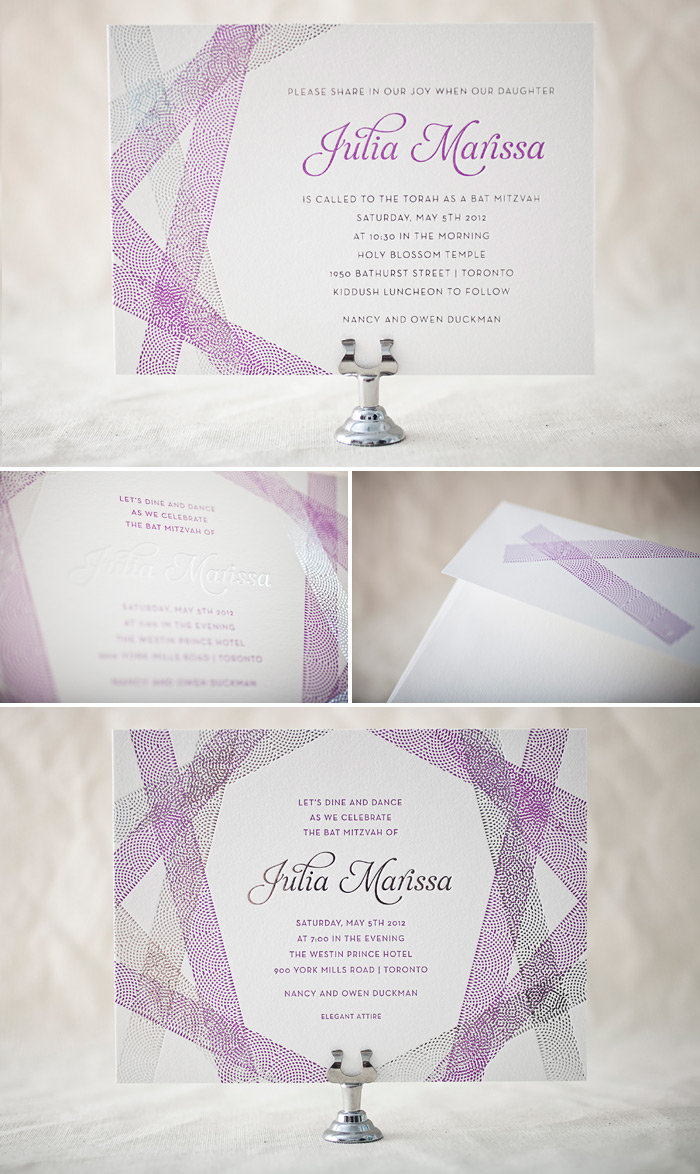 We love seeing our wedding invitations transform into Bat Mitzvah and Bar Mitzvah invitations! This design translates effortlessly into a classy yet youthful party choice.
ink: custom pantone 253U  | foil: silver shine | fonts: neutra text + aurora  | paper: 2-ply white  | invite size: f8 |
This design won an honorable mention in our Bella Figura design competition for 2012. This annual competition recognizes outstanding and inspired designs submitted by our beloved dealers.