Recap: the 2016 Martha Stewart Weddings Party!
We recently had the pleasure of participating in Martha Stewart's 2016 Wedding Party, an amazing bridal show produced by Claudia Hanlin and our friends at The Wedding Library for New York City brides and grooms. The event took place at Gotham Hall on a sunny Sunday morning, just a few hours after the travel ban was lifted after the historic winter storm Jonas. The Wedding Party had bands playing throughout the day, delicious cake tastings, a variety of venues and registry options, talented florists and event designers, models floating about in gorgeous wedding gowns, travel coordinators for dreamy honeymoon destinations — and those were just a few of the different types of vendors attendees had the opportunity to visit with. Bella Figura calligrapher Debi Zeinert had a table next to us, offering on the spot calligraphy and giving everyone a personalized memento to take home. Fleurs NYC provided us with beautiful fresh flowers for our event displays, which featured new designs from our 2016 collection and some of our bestsellers. Take a peek at our display! 
We worked with Hercules Candy Company, a Syracuse-based chocolate shop, to create custom chocolate bars that we printed labels for (featuring artwork from our new Adele design!) to give out as a treat to attendees. We worked with another Syracuse company – the Black Arts Studio – to create our a beautifully printed table runner for the event as well.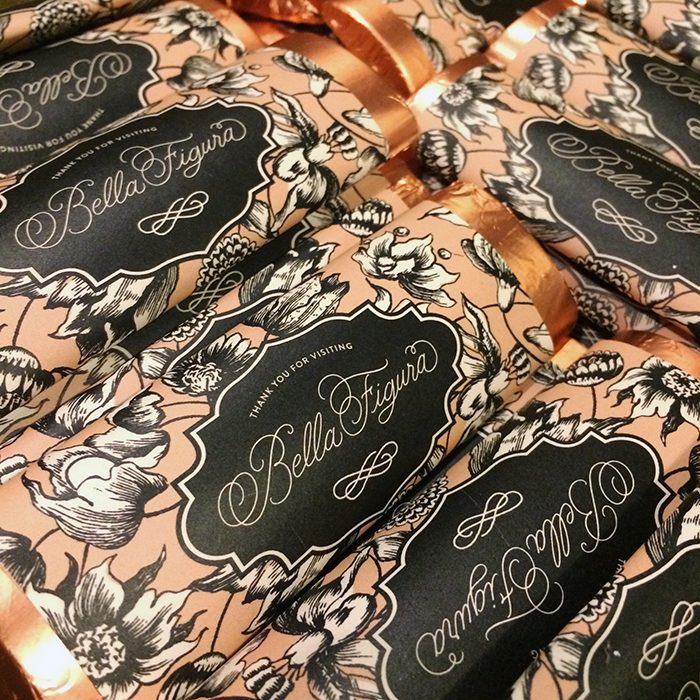 Martha Stewart and Darcy Miller gave a talk at the beginning of the event, and made the rounds to see all of the different vendors – including us! It was an honor to meet Martha and have her check out our newest designs — definitely the highlight of the event.