We design our custom maps so they capture the spirit and look of your wedding invitations. But, you may ask, why bother with a map at all if everyone has an iPhone? Even with the prevelance of phones with GPS, a letterpress or foil custom map can elevate directions into a work of art. Our maps are really really pretty! The complexity and size of your map may affect design time, but we will always let you know an hourly estimate before we get started. Please allow an additional 3 business days for map design, and see guidelines below about how to submit your map information to us. Here are three map examples to get you started. That said, we also welcome unique approaches to maps, so contact us with your ideas.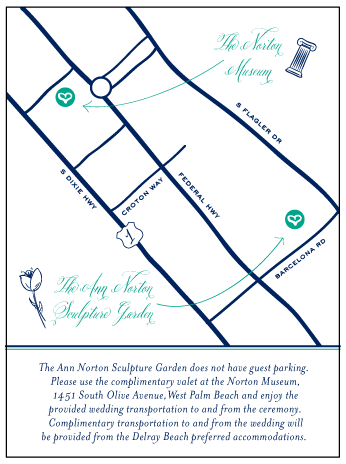 Map style #1 (approximately 1 hour design time)
This map is great for showing a smaller area, like a close-up view of a the town or city. It includes a basic line drawing of the area and hand-drawn icons to represent the important landmarks, with room for additional wording if needed.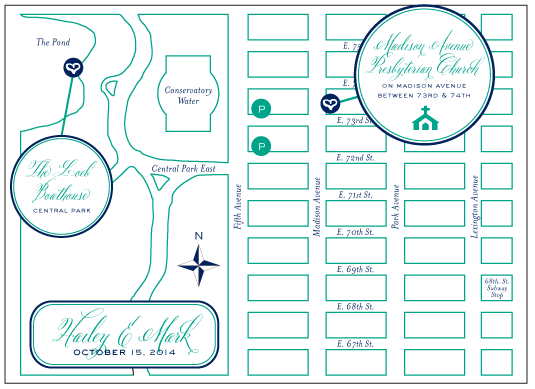 Map style #2 (approximately 2 hours design time)
This map is great for showing larger urban areas. It includes a thin, clean, simplified layout of the area, and clearly identifies important landmarks.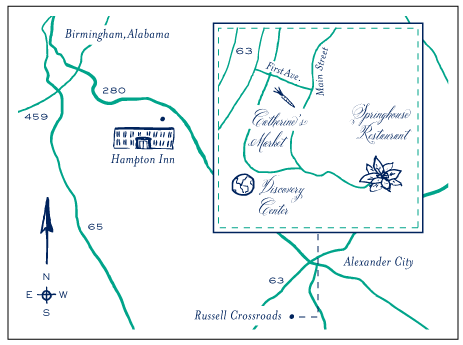 Map style #3 (approximately 3 hours design time)
This map is great for showing how to get to the correct area from far away, and then how to get to the important landmarks once you're there. The route is all drawn by hand, and there are hand-drawn icons to represent each landmark.
Guidelines for submitting custom map information.
You may submit the map information in whatever way you find best! However, we recommend using the following process to provide us all of the information we need:
Go to maps.google.com
If you have an account, sign in. If you don't, create one (it's free and easy!)
Click on "my places&ldquot; near the top left corner.
Click on the red &rdquot;create map&ldquot; button.
Click on "Create a new map".
Type in first address. When the green marker pops up on the map, click on it and click "Add to map." The marker turns red. Click on it again, and then click the pencil icon at the bottom right of the box. This allows you to edit the name. Change the address to the name of the location to indicate what goes there.
Type in your next address, and repeat the steps.
When you're done, click the "Share" button in the top right of the map.
Where it says "Private—only you can access", click on "Change&ellip;" next to that. Change it to "anyone with the link", and save. Then copy the link in the "link to share" box, and send that to us. Let us know in your message whether you're submitting it for a client we already have on file, or if you're just looking for a quote. Please also let us know which style map you'd like, and we'll be in touch!