These are our letterpress designers.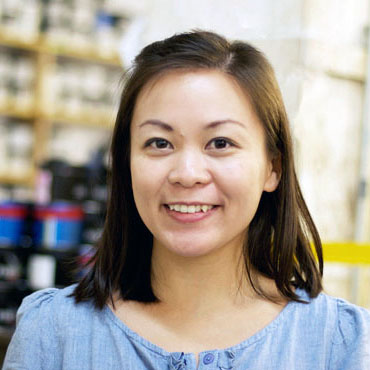 April Wong
Bella Figura
April Wong graduated with a degree in graphic design from the Rochester Institute of Technology, gave birth to her son Taiden, then landed her job as a designer at Bella Figura. Her favorite design project is designing her son's first birthday invitation (which was letterpress printed of course!).
What inspires your designs? Day dreaming, nature, vintage goods, fabric patterns, my son
Describe your living style. Living with my 1 year old, my boyfriend, 2 dogs, 2 cats, and 4 chickens can be chaotic. But they keep me busy and are fun most of the time. I wouldn't feel right without any of those guys around. They always carry positive energy around the house.
Favorite vacation spot? During the summer we go camping at Stillwater, New York every year -- so secluded and relaxing. No place is better than having your own little island surrounded by sandy beach. Another favorite place is Vermont: snowy mountains, good food, nice people, cozy cabins.and its only hours away from us.
What are your favorite colors of the moment? Watermelon, Pool, Sherbert, Aqua Marine
What's your prized possession? My family and friends
Describe the place where you design. Here in the office, I tried to keep my little nook cozy and warm. At home, my design space is airy and bright, tried to be clutter free and good music.