These are our letterpress designers.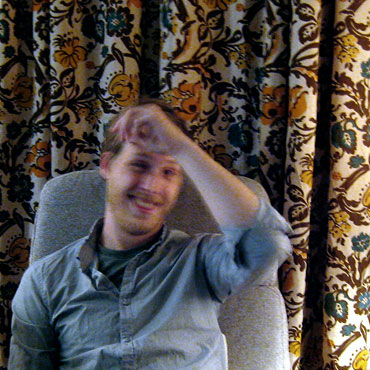 Ben Whitla
Ben Whitla has a degree in printmaking from Syracuse University and previously worked as a letterpress printer for Boxcar Press. After a brief stint on the west coast where he did freelance design and worked for a snowboard company, he made his way back to the east coast and took up residence in Boston where he currently lives and works.
What's the most exciting thing you've done? Sailed with my dad on a tiny Laser in Gloucester while a hurricane was on its way. We didn't tell mom until afterwards.
What inspires your designs? Music. Interior design. Vintage furniture. Vintage wallpaper. Vintage fabric. Restaurants. My wife.
Tell us about your wedding. We had a lovely wedding at a farm in New Jersey. I had no idea Jersey even had farms, so to find this place with trees and fields was amazing. We had the perfect fall day, with the leaves just turning and 150 of our closest friends and family.
Where did you honeymoon and why? We honeymooned in Hawaii, thanks to a generous wedding gift. We had never been, and will certainly never go back in such a state of luxury. It was relaxing and wonderful. One of my favorite vacations was in the Virgin Islands, where we stayed at a small bed and breakfast. We would wake up every morning and say hello to the little lizards, have a little coffee and walk down to the beach.
Describe the place where you design. In the corner of our living room. Well, we live in a one bedroom in the South End of Boston, so it's really a living room, dining room, den, TV room, office, library, studio and general " place to get away from it all."
What are your favorite colors of the moment? Peacock and clover. I've been a little obsessed with peacock colorations lately—but how can you not be? Nature always gets the colors just right.
What were the colors of your childhood? It's hard to shake the memory of the bright orange shag carpeting my parents used to have. Believe me, I've tried.
What's on or in your nightstand? Three books I've only half finished (Geek Love, Manhunt: The 21 Day Chase for Lincoln's Killer, Electroboy), two books I've already finished (The Learners, The Mosquito Coast), three magazines that are over a month old (Anthem, Surface, Vanity Fair), the most recent New York Times Magazine (and probably the 3 before that piled underneath), iPhone charger, same alarm clock I've had since kindergarten (because that's when you have to start getting yourself up, young man) and a small lamp that could really use a lower wattage bulb.
What city do you call home? Call me and I'll show you the nooks and crannies of Boston.
What's your prized possession? Besides my wife? And my friends? And eating out at a great restaurant with both of those people? Can I "own" eating out? Probably not. Therefore, I'll say "my truck." She's taken me across this great country more than once.