These are our letterpress designers.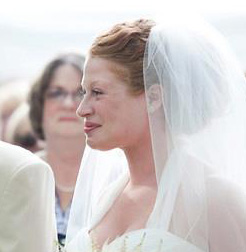 Lindsy Talarico
Lindsy Talarico recalls that creativity has flowed through her veins essentially since she could hold a crayon—her first masterpieces were created on the walls of her parents' living room at the ripe old age of two. After a childhood spent charging neighborhood kids a dollar a pop for hand drawn fake tattoos, she graduated Cum Laude with a Bachelor of Fine Arts degree in Graphic Design from SUNY Oswego. After graduating, she worked as a free lance graphic designer, occasionally designing custom wedding invitations for clients, before taking a position with Boxcar Press, parent company of Bella Figura. Lindsy now spends her days enjoying her two great loves—fabulous design and working with great people.
What inspires your designs? Travel, humor, children, the ocean, fashion, nature, family, history, culture—inspiration is everywhere.
What's the most exciting thing you've done? I once kayaked in the bioluminescent bay of Vieques, Puerto Rico, with a laid back, shirtless hippy as our guide. Did I mention it was night time and completely pitch black out? Well it was. Our goal was to see the tiny micro-organisms called dinoflagellates glowing in the water. These little specs of light, reminiscent of neon blue confetti, glow to frighten prey. It's their defense mechanism—and it is beautiful!
Describe the place where you design. Pretty much anywhere where I can bring a sketchbook or my laptop. Though my best ideas always seem to pop in my head right before I fall asleep at night. My brain becomes its own little sketchbook and I can literally create all sorts of designs with my eyes closed.
Describe your style. For some reason I always try to have my living spaces reflect a sort of vintage island or beach life. I love clean neutral colors matched with earthy eclectic accents and textures. My bedroom, for instance, has airy seamist walls and hardwood floors. My bed has a beautiful bamboo styled headboard and is covered in a taupe corduroy comforter. The coordinating dresser is the resting place for a dried grass place mat, a beautiful olive green lamp with a bamboo lampshade, and a small wooden vase filled with orchids. One of my favorite accents in the room is this large circular wall hanging handmade in the late '70s by a friend of my mother's. It uses all natural fibers, dark wooden beads and has such a vintage, earthy vibe. I also love throwing in pieces that reflect different places from around the world as well.
What city do you call home? Syracuse, New York. You must visit the New York State Fair if you are lucky enough to be in town the last week of August. Let's just say that you see the most interesting walks of life there and the food is to die for! I also love the antique shop called Behind the Iron Gates—it's an old mansion filled with all sorts of goodies and is supposedly haunted! I also cannot get enough of the Rosemond Gifford Zoo. Animals rock! Everyone should eat at The Black Olive in Armory Square—the Mediterranean food is delicious and they also have belly dancers! Visit Tipperary Hill! It's the best little town to be in on St. Patrick's day— it's filled with Irish pubs and the famous inverted traffic light where the green light is on top!
Where is the best place you have vacationed and why? I loved Spain and Vieques, Puerto Rico! Spain had so much culture to offer—we traveled to about 10 different cities exploring basilicas, castles, caves, the rock of Gibraltar, the best shops and cafes! I had the time of my life. And Vieques was just so natural and untouched —I love the island life—the people are amazing and there are so many beautiful secluded beaches —some even had wild horses running freely on their shores. But since I am a big kid at heart, I am really a sucker for Disney World. It's the best!
What's on or in your nightstand? An ipod dock/alarm clock, candles, a book, a sketchbook and a pen.
What is your most prized possession? Figuratively – my family, my friends, my sense of self, and sense of humor. Literally— is it sad to say I don't have one? It's just stuff.
What are your favorite colors of the moment? Chartreuse, seamist, mango, marigold, pewter
What were the colors of your childhood? Aquamarine—totally the color of the siding on our above ground pool! Vine— completely reminds me of the patch of woods at the end of our dead end street. Powder blue—our living room and kitchen were submersed in this color. Pumpkin—reminds me of my hair color that I hated when growing up! Fuchsia—Duh! I was a child of the 80s! Like, totally!