These are our letterpress designers.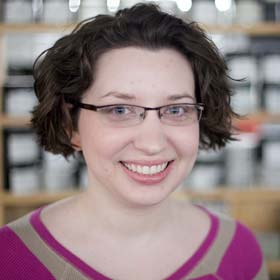 Andrea Streeter
Bella Figura
Andrea Streeter graduated from Syracuse University's Newhouse School in 2011 with a degree in graphic design. In college, she gained an appreciation for great design and developed a fun & functional style philosophy. Recently, a project of hers was featured in the package design book Boxed and Labelled Two.
What inspires your designs? Great illustration; awesome typography; vintage posters, packaging & ads; my favorite movies, tv and music.
What city do you call home? Auburn, NY - a small Finger Lakes city about a half hour outside of Syracuse. A town full of history (Harriet Tubman, William Seward, talking movies) and a great place to grow up.
Describe the place where you design? At home, I just design on my bed with my laptop--a very professional set-up.
What's on or in your nightstand? Many chapsticks; a necklace made from my great-grandma's earring; some books I still need to read, including Bossypants by Tina Fey.
What were the colors of your childhood? Pinks and purples when I was very young. Lime green & pink in my tweens and teens.
What are your favorite colors at the moment? Aquamarine, Sea-side, Champagne, Neons!
What's the most exciting thing you've ever done? My boyfriend and I went on our first vacation together, to New York City. We had so much fun rocking out at an outdoor Brooklyn concert, in a thunderstorm. After, we got separated from each other in the subway without our phones. A very memorable night for two boring, small-town folks! (Don't worry, we were reunited hours later.)