These are our letterpress designers.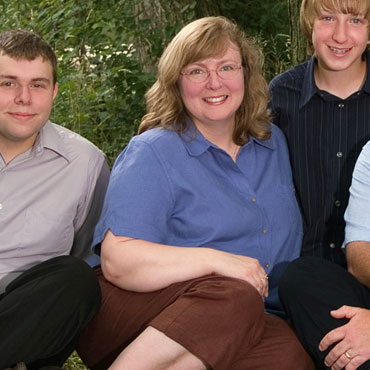 Beth Ann Seal
After spending her childhood and early years tinkering with all things creative, Beth Ann Seal graduated Magna Cum Laude in an intensive graphic design curriculum at the Pennsylvania College of Technology in Williamsport, where she was fortunate to study bookmaking with Gretchen Moyer of Red Howler Press. Since then, she has done freelance work, worked for Penny Blasko Photography, crafted journals and other small books for Tioga Artisans, and started Summer House Stitche Workes, her counted thread design company. She began working as the in-house designer for Bella Figura in January of 2007 and has enjoyed playing a part in thousands of weddings.
What inspires your designs? Antiques, architecture, classic typography and book printing, folk art, interior design, literature, nature, transferware, traditional handcrafts, trends
What are the colors of your childhood? I think of my mother's scrap fabric box—lots of sixties and seventies patterns. My sister and I were allowed to use any of the scraps for whatever we wanted. The box was put to good use and we stitched (or glued) all sorts of things, from clothes for our kittens to bedroom décor for our dollhouse. Of course, childhood would not have been complete without my box of 64.
Tell us about your wedding. Our wedding was a very simple, outdoor affair. We were married behind our home church in the picnic pavilion and even the neighboring cows came to see what the fuss was all about. We held our reception in my in-laws backyard with a catered buffet dinner. The flowers were arranged by a florist that grew her own flowers—my bouquet featured her gorgeous stargazer lilies. The colors were pastels of pink, green and peach. What can I say? It was the eighties!
Where did you honeymoon and why? Wellsboro, PA. We stayed in an elegant Victorian Bed and Breakfast, hiked the Pine Creek Gorge and toured the architecturally rich, gaslight town. Wellsboro was a great place for us, because we both were able to enjoy the things we love most—the great outdoors and old houses.
Describe the place where you design: I am very fortunate in my studio. It is technically the formal living room of our home, so it is a large room. I have plenty of room to spread out a quilt in the making or to just plain clutter it up with in-process projects.
What are your favorite colors of the moment? Chartreuse, navy and antique gold
What's the most exciting thing you've done? I guess the most exciting thing about me is that through following my husband's career, I have become an expert at moving. I stopped counting the number of homes I have lived in. It is fun to explore new areas and to experience different regional (and worldly) cultures. The experience has given my children a unique education as well.
What's on or in your nightstand? A lamp made from an 1858 Mason jar, the hateful alarm clock that literally sounds like it sings "Get, up. Get up." And my hubby's cycling magazines.
What city do you call home? My home is in Mechanicsburg, Pennsylvania, across the river from Harrisburg, the state capital. South central PA is rich in history, chocolate and picturesque landscapes. All within a half hour drive from my home you can hike the Appalachian Trail, tour the fabulous State Museum, discover covered bridges in their natural habitat and follow the footsteps of Civil War heroes. And don't forget that Pennsylvanians love to eat. We will feed you well. Shoo-fly pie anyone?
What is your most prized possession? When I was a child I found a small piece of fabric in the pages of my great-great grandparent's family Bible. This 2.5 x 3.5 piece of fine linen was stitched by my great-great grandmother on her 18th birthday. I don't know much about Calisca Diana, except that she had a fabulous name and reared nine children. I hope that someday, my great-great granddaughter will look at my stitching as an inspiration for her own and so continue a connection through the generations.