These are our letterpress designers.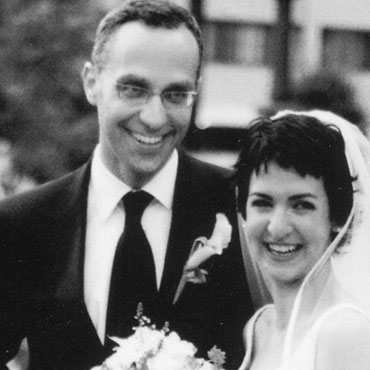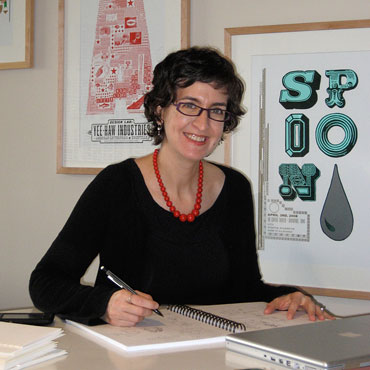 Elizabeth and David Mandel
Elizabeth & David Mandel are a husband-wife design team, collaboratively creating iconic, one of a kind invitations. Elizabeth received her BA in art history from Harvard University and her MFA in graphic design from Yale University. She is a Professor of Graphic Design at the Savannah College of Art in Atlanta, and previously taught graphic design at Parsons School of Design in New York. She has received design awards from the American Institute of Graphic Arts, Print Magazine, and the Association of American University Presses. David came to graphic design via exhibition design and museums. He has worked for an exhibition design firm in New York City and in the exhibition department of two museums, the U.S. Holocaust Memorial Museum and the New York Historical Society. As his love for visual communication grew, he shifted to graphic design and earned a graduate degree from a design school in Atlanta called the Portfolio Center. Exhibitions he has worked on have won awards from Communication Arts, I.D. Magazine, and received favorable reviews from the New York Times, The Washington Post, and The New Republic.
What's the most exciting thing you've done? Elizabeth: Getting married to my wonderful husband, and studying graphic design in a summer course in Switzerland with Paul Rand and Armin Hofmann. // David: Personally—married my wife and fellow designer, Elizabeth Elsas. Professionally—being a founding staff member at the U.S. Holocaust Memorial Museum.
What inspires your designs? Elizabeth: Alvin Lustig's book covers // Jonathan Adler's fun retro chic // 18th-century typography manuals // Southern Folk Art // Josef Müller-Brockmann's 1950s posters // Art Deco Patterns. David: Literature // philosophy // history // Paul Rand // Joseph Muller-Brockmann.
What is your most prized possession? Elizabeth & David: Our dog, Wrigley. (Elizabeth also adds: "and a small oval painting by Rev. Howard Finster")
Tell us about your wedding. Elizabeth: I got married in Birmingham, Alabama, in the same synagogue where my parents got married. I guess I'd call the style Elegant Southern, but not stuffy. Our chuppah in the synagogue was draped with ivy and white gourds, and our first dance was to REM's You are the Everything. My first Bella invitation (Champagne) was for my wedding, printed in amethyst and clover.
Where did you honeymoon and why? Elizabeth: Sonoma, California and then to Hawaii. Our first vacation together was to California Wine Country, and I can't think of anything better than buying a bottle of wine and then picnicking at the foot of the mountains. We had never been to Hawaii before. It was fantastic, especially snorkeling with sea turtles and visiting the live volcano.
What are your favorite colors of the moment? Elizabeth: Plum, Atlantic, and Espresso // David: Pewter, Chartreuse, Tiffany Blue
What's on or in your nightstand? Elizabeth: Reading for the classes I'm teaching, a framed photo from our wedding, and Ann Patchett's Bel Canto.// David: 2666 by Roberto Bolano, Paul Rand's A Designer's Art, Beg, Borrow, Steal: A Writer's Life by Michael Greenberg., a clock, a lamp, a pencil.
What city do you call home? Elizabeth: I'm a fairly new transplant to Atlanta, and still have many sights to see. The top of my list so far include The High Museum, Piedmont Park, and biscuits at the Thumbs-up Diner. // David: My wife and I live in Atlanta, Georgia. Must see sights: 1) Sweetwater Creek State Park; 2) Piedmont Park; 3) Vietnamese, Mexican, and Chinese restaurants on the Buford Highway; 4) Fat Matt's BBQ; 5) Fox Theater.
Describe the place where you design. Elizabeth: I designed some of my invitations in my old studio in a funky loft in Brooklyn, but now I design in my studio in my home in Atlanta. We have a great view of trees covered in kudzu. David: I design in an office in our apartment.
What were the colors of your childhood? Elizabeth: I loved purple more than anything. David: Blue and green.