These are our letterpress designers.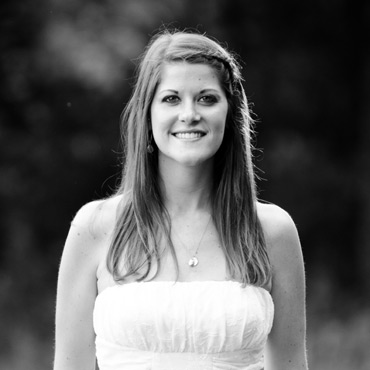 Elizabeth Hardin
Elizabeth Hardin has loved doodling and turning letters into art for as long as she can remember. She attended Elon, a small university in North Carolina, and then Vanderbilt University to attain her Masters Degree in Higher Education Administration. Her passion for typography only recently turned into a profession when she couldn't find what she was looking for in a wedding invitation and decided to letter it herself. She is completely self-taught and still constantly learning. She loves creating modern and vibrant calligraphy styles that can turn simple words into works of art. When in doubt, she just lets her hand do the talking.
What inspires your designs? I find inspiration in my grandparents love letters which, in more ways than one, helped me to learn the beauty of words. I also find inspiration in old tea cups, the typography in antique magazine ads, gorgeous wallpapers and textiles, and my collection of vintage wedding invitations.
Tell us about your wedding. My wedding was a dream. The ceremony was at a gorgeous Cathedral in Nashville, the interior of which is breathtaking and needs no decoration. The reception was on a rooftop venue overlooking the honky-tonks of downtown Nashville. We decorated with burlap, lace, and rustic barnwood. There were antique silver pictures, lanterns and teacups. I loved the juxtaposition of the old and new.
Where did you honeymoon and why? We honeymooned in Puerto Rico. We chose it because we wanted to go to a place that neither of us had ever been. We did absolutely nothing for an entire week and that's exactly what we were hoping for.
What city do you call home? I grew up in Greensboro, North Carolina. Most of my family still lives there, so it will always be home. My other home is Nashville, Tennessee which is where my husband and I live.
Describe the place where you design. I do most of my lettering on an old butcher-block kitchen table that lives behind the couch in our den. It has a glass top and underneath the glass lives a large sheet of burlap that I've covered in a mixture of my vintage wedding invitations and some of my favorite personal designs.
What's on or in your nightstand? Usually my glasses and a Pulitzer Prize winning book. I'm slowly but surely trying to read the entire list of fiction winners. Emphasis on slowly.
What were the colors of your childhood? Green. Green everything.
What are your favorite colors of the moment? My favorite color is gray. I love all shades of it and I think it complements everything nicely. Right now I also find myself feeling drawn to teal and peacock, both of which are very underrated colors.
What's the most exciting thing you've done? It's a tie between a surprise hot air balloon ride from my husband and volunteering to be part of an elephant variety act on a visit to Kunming, China.
What is your most prized possession? My most prized possession is a stuffed rabbit named Concord. I got him the day I was born and I've loved him ever since. His arm is sewn to his head, he's missing both eyes and most of his fur, and he's lost quite a bit of his stuffing, but he still sleeps with me every night.