These are our letterpress designers.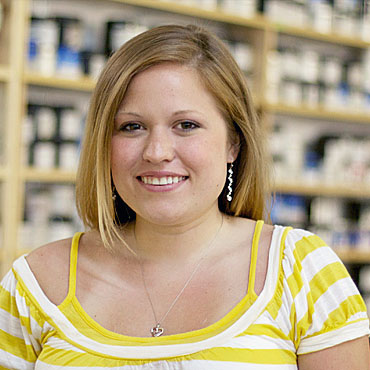 Sarah Gluchacki
Bella Figura
Sarah Gluchacki has always been attracted to art and design, as well as the philosophy behind visual perception, even before she understood that she was designing. She has a Bachelor of Fine Arts degree from SUNY Potsdam, and worked as a freelance graphic designer before becoming part of the Bella Figura team.
What's the most exciting thing you've done? My first trip to Europe. When I was sixteen, I was invited to be part of a chorus that traveled around five European countries over the course of two weeks, and we performed in some of the most beautiful locations I have ever seen! It was such an incredible trip, and it really opened my eyes to the rest of the world.
What inspires your designs? Artwork created by hand has a huge impact on my designs—I love the little imperfections. I also find inspiration in nature, wallpaper patterns, fashion, and music.
Describe the place where you design. Here at Bella Figura, I design at a desk that is generally cluttered with coffee cups, sketches, post-it notes, photos of my family and friends, reference sheets and ink samples—though I do try to organize before I leave everyday! When I design at home, I'm usually sitting in an oversized bean bag chair with my laptop, surrounded by sketches.
What's your favorite place to vacation? Every summer since I can remember, my family has spent a week vacationing in North Carolina. Recently, we've had a condo right on the beach, and I can't imagine anything more relaxing and fun. Although I love traveling overseas at every opportunity I get, I wouldn't give up lying in the sun with an iPod and a book for anything!
What are your favorite colors of the moment? Celadon, wisteria, amber, amethyst, and prussian blue.
What were the colors of your childhood? Pink and yellow! But mostly pink.
What's on or in your nightstand? A lamp, a wildly annoying alarm clock, candles, and a few books.
Describe your living style. I love bright, open spaces. Very clean, uncluttered (when I'm not too busy to keep up with it), simple.
What city do you call home? I recently moved to Syracuse, New York! Based on my limited exploration of the city so far, I would definitely recommend going to an SU game, visiting the Everson Museum, going to the Rosamond Gifford Zoo, eating at the Blarney Stone (great weekly specials—like 25 cent wings on Thursdays!), and checking out as many festivals downtown as possible!
What's your prized possession? A gold-trimmed preserved rose my fiancé gave me as an anniversary gift.