These are our letterpress designers.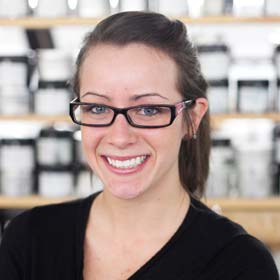 Brenda Fox
Bella Figura
Brenda Fox graduated from the State University of New York at Oswego with a Bachelor of Fine Arts with an emphasis in Graphic Design and minor in Art History. While she loves new media and graphic art — she is no stranger to traditional methods.
What inspires your designs? Lots of magazines. Interior design magazines in particular.
What city do you call home? Always been a proud Syracuse native.
Describe the place where you design? A warehouse space turned office, keeping the cool factor with exposed brick and fun accent walls.
What's on or in your nightstand? A few flea market knick knacks, a picture of my nieces and nephews, and a slew of reading materials (The Rolling Stones Illustrated Portraits, my favorite currently).
What were the colors of your childhood? Sky blue, the color of my childhood home. Pumpkin orange, the color of my needed to be remodeled, 70's-plaid kitchen. And purple, the color of the bedroom I shared with my sister, jazzed up with a little white bunny border.
What are your favorite colors at the moment? Loving navy, salmon and mossy green.
What's the most exciting thing you've ever done? In college I got the chance to study abroad in Benin (A country nestled in western Africa). This was truly amazing. Never did I think I would get the chance to experience another culture so full circle. It was priceless.
What is your most prized possession? There is not one thing in particular I would be devastated to lose. But I have a book signed by an author/illustrator I think is really cool and I am totally obsessed with my growing collection of tech pens.