These are our letterpress designers.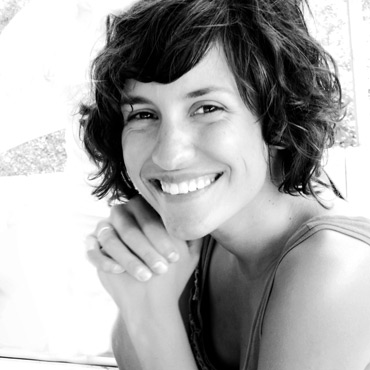 Jamie Lea Bertsch
Jamie Lea Bertsch received her BFA in graphic design & printmaking from the University of Wisconsin Stevens Point. Currently she is attending the University of Wisconsin Milwaukee working toward an MFA in Fiber. During her studies, she has traveled abroad, teaching art in Mae Sai, Thailand. Her design work has been featured in Domino Magazine and Wisconsin Bride. She has also shown her work in several solo and group exhibitions including the Parkside National Small Print Exhibition and the Textile Arts Center in Brooklyn, New York. In 2008, Jamie was also awarded the Design*Sponge Scholarship. In her free time, she enjoys knitting and making handmade soap.
Describe the place where you design. The place I design is in a lovely little closet in our house. I have inspirational colors, prints, patterns up on my wall, and always a good cup of coffee at my desk. Most of the time though, my design projects spill over into the living room…I love that—I like to think of my entire home as my design space.
What inspires your designs? My heritage, porch sitting, rhythm, repetition, list writing, interconnection, stitches, memory.
What's the most exciting thing you've done? Marrying my love! Also, traveling to Thailand with great friends, to teach and paint at the Development Education Program for Daughters and Community (DEPDC) school in Mae Sai, Thailand. Although we didn't share the same language, there was no problem communicating through art. The children there were absolutely amazing and so intuitive—I still get goosebumps when I think of it…I'd love to go back someday.
Tell us about your wedding. My husband and I were married in the summer of 2009! Our wedding was in my family's backyard. Our entire day was an epic collaboration of friends, family, grandmas and grandpas, neighbors, and friends of friends who were all so generous in offering helping hands. My husband and I made our "arbor of love" together from wrapped branches and vintage fabric. The decor was based off of the pieces that we've collected over the years we've been together with the addition of a few family heirlooms. We wanted every detail to be personal, and to have an overall setting that really captured " us." My dress was my mother's wedding dress. My husband organized a group of friends from college to play jazz at our dinner party. It was an amazing day of family and friends!
Where is the best place you have vacationed and why? Our best vacation spot is in Star Lake, Wisconsin. We go camping in August with family each summer, and it's definitely grown into a necessity. We always find the best campsite, with a nice little private beach. We enjoy delicious food over the campfire in a dutch oven, listen to the bugle play across the lake each night and have coffee in the morning with the sun. We plan to honeymoon in Ireland next summer!
What are your favorite colors of the moment? Definitely persimmon and I'm also a big fan of plum and pool
What were the colors of your childhood? Mustard yellow, sky blue, and fuchsia
What's on or in your nightstand? My favorite alarm clock that wakes me up with a bright light flashing, instead of a loud noise, a milkglass hobnail lamp, and piled up fabric swatches.
What city do you call home? I live in the Riverwest neighborhood of Milwaukee, Wisconsin. Alterra Coffee Co. is just down the street—great coffee, espresso and design. After coffee, head next door to ReThreads, a recycled clothing shop that I visit often. For dinner, hit up Centro Café on Center Street or NessunDorma for cocktails. Our favorite spot is The Jazz Estate—live music every night!
What is your most prized possession? The blanket that my Great Grandma made for me.